Human Rights Council 40: Item 2 - UK Explanation of Vote
Ensuring Accountability and Justice for all Violations of International Law in the Occupied Palestinian Territory, including East Jerusalem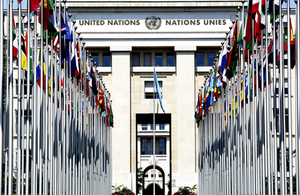 In 2017, the UK told this Council that the existence of a dedicated agenda item concerning Israel – Item 7 – amounted to systemic institutional bias and unless things changed we would move to voting against all Item 7 resolutions. The perpetuation of Item 7 is an impediment to dialogue, and damages the prospects for a two-state solution that would end the Israeli-Palestinian conflict.
Last year, in the absence of any change on Item 7, we voted against the accountability resolution. We also voted against the Syrian Golan resolution. Today, when the Item 7 resolutions are considered, we will vote against all of them.
Today, when the Council again considers the resolution calling for accountability and justice for all violations of international law in the Occupied Palestinian Territory, including East Jerusalem, it will do so under a different, non-discriminatory agenda item. The UK welcomes the fact that, for the first time, rather than being considered under the discriminatory Item 7, this Council is discussing this resolution under an agenda Item, Item 2: the High Commissioner for Human Rights' Report. This is an Agenda Item open to all, which does not discriminate between nations.
And because it is now not an item 7 resolution, we are able to review the text carefully and consider the context on their merits. On the basis of the text, we will abstain.
Our vote today follows on from our position in May 2018 when we abstained on the resolution that created the Commission of Inquiry into the Gaza protests. Our expectation is that accountability must be pursued impartially, fairly, and in a balanced manner. We did not and cannot support an international investigation that refuses to call explicitly for an investigation into the action of non-state actors such as Hamas, and we cannot support a resolution that fails to address the actions of all actors, including non-state actors.
The UK continues fully to support an independent and transparent investigation into the deadly events in Gaza. We note the IDF opening potential criminal investigations into a number of cases. It is a source of great concern that, since 30th March 2018, over 23,000 Palestinians have been injured and 187 Palestinians have been killed during these protests. Hamas of course bear principal responsibility as their operatives have cynically exploited the protests. And we are clear that Israel has the right to self-defence.
But equally we have publicly and privately expressed our longstanding concerns about the use of live ammunition and excessive force by the Israel Defence Forces. Our decision to abstain reflects this balance.
The UN and its member states should address these grave matters in a measured and proportionate manner. The UK will continue to support the scrutiny of Israel and the Occupied Palestinian Territories in the Human Rights Council, so long as such scrutiny is justified, proportionate, and does not take place under Item 7.
Published 22 March 2019