World news story
Human Rights Council 39: Interactive Dialogue with the Commission of Inquiry on Burundi
This UK statement was delivered at the 39th session of the Human Rights Council during the interactive dialogue with the Commission of Inquiry on Burundi.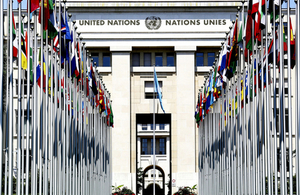 The United Kingdom reaffirms its support for the Commission and welcomes their report.
We note the steps taken by the Government of Burundi to withdraw the bans of some civil society organisations, cancel some arrest warrants and release a number of detainees. However, we urge the Government to take further action to open up democratic space and protect and promote fundamental freedoms for all, including the press, civil society and all political actors. This remains vital to ensure that the elections in 2020 are credible, fair and inclusive.
We remain extremely concerned that serious human rights abuses and violations continue to be perpetrated with impunity by Burundi security authorities and those affiliated to them. The growing role of the ruling party's youth league, the Imbonerakure, in these violations, and the organisation's recruitment drives among the general public, aimed at suppressing opposition, are concerning. The Government to date refuses to engage with the international community, including with this Council and the Commission, in order to improve the human rights situation and hold the perpetrators to account. We call on the Burundi government to re-establish cooperation with the OHCHR as a matter of priority.
The UK reiterates its position that genuine, inclusive dialogue, with all parties, remains the only viable option to resolve the political crisis. We also remain concerned that the Arusha Accords are at risk of being undermined following the referendum. We call on the Government, and the guarantors of the Accords, to ensure that their spirit are respected when constitutional changes are implemented.
Mr. President,
Assuming their mandate is renewed, we would like to ask the Commission what their priorities will be going forward. We would also welcome their views on what preparations the Government of Burundi needs to make to ensure that the elections are free, fair and credible.
Thank you.
Published 17 September 2018