World news story
Human Rights Council 37: Item 4 statement on Russia
In the 37th Human Rights Council session General Debate the UK Permanent Representative to the UN in Geneva spoke on the use of a nerve agent in Salisbury, UK.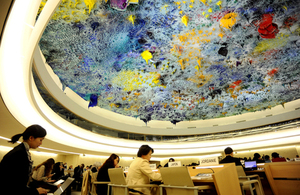 The UK remains concerned about the human rights situation in Syria, Egypt and China. But recent events demand that we focus today on one country.
The Council and the UN General Assembly have decried Russia's violations of international law with alarming regularity. Its reckless behaviour is increasingly an affront to all that this body stands for.
In Syria, the Council has repeatedly addressed violations carried out or backed by Russia, resulting in thousands of deaths, and untold human suffering.
The recent debate on Eastern Ghouta highlighted Russia's role in massive civilian suffering, in flagrant disregard of a unanimous Security Council resolution. This comes after years of perpetuating the conflict, consistently using its veto to prevent the political resolution that is so badly needed.
In Crimea, Russia's illegal annexation has given rise to a catalogue of violations, including enforced disappearances and arbitrary arrests. And Russian support for illegal armed groups in eastern Ukraine has been responsible for thousands of deaths.
Russia's continued undermining of Georgia's territorial integrity stands in violation of UN resolutions. And its refusal to allow external monitoring goes against this Council's resolutions.
Russia's disregard of state sovereignty has also been seen through its criminal activities in cyberspace, affecting many countries.
The human rights situation in Russia itself is also deeply alarming. Civil society, human rights defenders and the media face severe repression and persecution, without proper investigation or accountability.
On 4 March, a military grade nerve agent of a type developed by Russia was used on the streets of the UK, seemingly in an attempt to kill Sergei Skripal and his daughter Yulia. My government has concluded that it is highly likely that Russia was responsible. This flagrant breach of international law and the UK's sovereignty should serve as a warning to the international community – either Russia has deliberately flouted the rules-based international order, or it has lost control of its own chemical weapons.
Mr President,
Russia, as it so often does, will either deny the facts of what we have said today, or will seek to deflect criticism away from itself.
The UK does not deny that it has its own challenges. But in contrast to Russia, we see the UN and the rules-based system that it represents as a source of stability, and not as a threat. We see the rule of law as essential, not optional. And we know that deliberate violations against one can be an attack on us all.
Published 14 March 2018