World news story
Human Rights Council 36: UK Opening Statement
UK statement at the opening plenary of the 36th session of the Human Rights Council on 11 September 2017, delivered by Lord Ahmad of Wimbledon.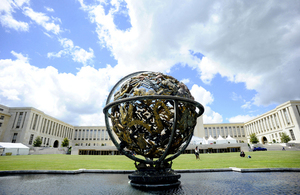 The Human Rights Council is the UN's premier human rights forum. It is our collective responsibility to strengthen the promotion and protection of human rights around the world. We must take on violations and abuses wherever they occur and whoever is subjected to them. And we must hold perpetrators to account. Only then can we claim the universality of human rights.
I echo the sentiments of the High Commissioner on the poignancy of the date on which we meet: the anniversary of the 9/11 attacks, which again reminds us of confronting and tackling global terrorism.
I should like to begin by responding to the remarks of the Foreign Minister of Venezuela. In Venezuela, the government is failing to defend and respect human rights. Opposition politicians have been arrested, protesters have been tried in military courts and demonstrators have been subjected to heavy-handed treatment by security forces, leading to more than 120 deaths since protests began in March. This is totally unacceptable.
Only last week, our Prime Minister, Mrs Theresa May, met leading figures from the Venezuelan political Opposition, including President of the National Assembly, Julio Borges. As the Prime Minister said in her statement, the UK will continue to work with our international partners to put pressure on the authorities to decrease tension in Venezuela and prevent the country being taken further away from democracy.
Turning to the ongoing plight of the Rohingya Muslims in Burma, the UK strongly condemns the latest violence, which has resulted in hundreds of thousands fleeing to Bangladesh, and thousands of people being internally displaced. Let us make no mistake: it is the security forces in the lead in Rakhine. They bear the primary responsibility to protect civilians, and abide by international norms, and we call on them to do so. We urge all parties to de-escalate tensions, and address the desperate and deteriorating humanitarian crisis.
We also remain concerned about previous allegations of human rights violations by the Burmese security forces, to which this Council responded by setting up a Fact Finding Mission. The UK urges the Government of Burma to grant access to the Mission and to cooperate fully with it.
The situation in Yemen remains of great concern. The humanitarian costs of this conflict are catastrophic, with over half a million suspected cases of cholera, at a cost of thousands of lives.
We call upon all parties to this conflict to work urgently for a political settlement, and to focus on the need for accountability.
I would now like to highlight the human rights challenges that are a particular priority for the British government, starting with key issues and moving on to other countries of concern.
The first issue is about eradicating modern slavery. It is the greatest human rights challenge facing the world today. It exists in every country represented in this room, including the United Kingdom, and in every business supply chain. More than 45 million people worldwide are subject to modern slavery, forced labour or human trafficking. Next week in New York our Prime Minister will issue a Call to Action to the international community. Mrs May will urge governments to commit to taking practical steps to meet Sustainable Development Goal 8.7 in their countries.
The second issue is enabling all people to live a life with dignity, and free from discrimination and violence. That means promoting and protecting the rights of women and girls as well as the rights of Lesbian, Gay, Bisexual and Transgender people.
Globally, it is estimated that 1 in 3 women has experienced either physical or sexual violence. Tackling this violence and discrimination is central to the full realisation of women's rights, and a world where all can live free from violence.
The same is true for the LGBT community. We strongly support the work of the Council and the wider UN system on both these issues.
Our third issue of particular concern is the persecution of individuals for their faith or belief. The UK is active in condemning all instances of such persecution. The protection and promotion of freedom of religion or belief is fundamental in tackling the root causes of extremism and building resilient societies. We must continue to work together, including in this Council, towards the full realisation of this right for all individuals and communities worldwide.
Our fourth priority is protecting Human Rights Defenders. They continue to face persecution, reprisals, harassment and even death. Global Witness estimates that 127 environmental activists have been killed this year alone. The ability to challenge governments and express opinion is a right which makes citizens and states safer and stronger.
That is why the UK actively promotes freedom of expression, association and assembly, and a free media. We will continue to challenge restrictions on civil society, including through our membership of the Community of Democracies and the Freedom Online Coalition, and in our work with human rights defenders in difficult and hostile environments.
The UK also takes our international relationships seriously, not least our membership of the Commonwealth. The Commonwealth's strengths lie in its diverse membership, mutual respect and common values, as set out in the Commonwealth Charter. These values align with the human rights which this Council upholds. In April next year, 2018, the UK will host the Commonwealth Summit and Heads of Government meeting. Our ambition for the Summit is that it will revitalise the Commonwealth so that it delivers more for its members and the wider world. That includes helping to build a fairer world, based on the common values we share.
On Syria, I call on all member states to support the balanced Resolution we will be putting forward. It is vital that the Council speaks with one voice to call for an end to the terrible violations and abuses taking place, and to support a durable negotiated political settlement.
In Burundi, the human rights situation remains deeply worrying. Credible sources, including a UN Independent Inquiry, have described arbitrary arrests, disappearances, torture and killings, mostly carried out by the Government. The UK calls upon the government of Burundi to engage with the international community; to meet its obligations under UN Security Council Resolution 2303; and to fully engage with the East African Community-led Inter-Burundian Dialogue. This offers the best prospect for an inclusive, negotiated settlement.
Somalia has made welcome progress towards upholding and protecting human rights. However, serious violations and abuses, and a culture of impunity, persist. The Council should call on the new Somali authorities to implement existing commitments swiftly, including those made at the London Somalia Conference in May. Further efforts are also needed at national and federal level to promote and protect rule of law and human rights, particularly the rights of women, children and vulnerable groups.
The human rights situation in South Sudan is dire. The political crisis and violence in July 2016 led to widespread and appalling abuses and violations. We have seen communities forcibly displaced; civilians targeted on the basis of their ethnic identity; rape being used as a weapon of war; children recruited as soldiers; freedom of expression stifled. The Government of South Sudan continues to violate not only its obligations under international humanitarian and human rights law, but also under its own constitution. The Commission on Human Rights in South Sudan has a crucial role to play in helping to ensure that those responsible are held to account.
We are also increasingly concerned by the deteriorating human rights situation in the Democratic Republic of Congo. Events in the Kasais have horrified us all. In June, this Council mandated an investigation that will adhere to international standards. Those responsible for the violence must face justice.
Violations and abuses also continue in other parts of the country, especially in the East. The UN's Joint Human Rights Office reported that, while non-state actors bear some responsibility, the main perpetrators are state agents, especially the Armed Forces. The DRC Government also continues to restrict political space. In this context, it is difficult to see how the DRC can be an effective or legitimate member of this Council.
In Libya, there are consistent reports of human rights violations and systematic persecution of civilians. The situation is exacerbated by the unstable political, economic and security context. At the March Human Rights Council, the UK strongly supported a new resolution on Libya, to establish the facts on abuses and violations, and to help ensure individual accountability. More broadly, urgent political progress is needed to bring greater stability to Libya, and to put in place unified security forces that will respect Libyan and international law.
In conclusion, eleven years since its establishment, this Council remains the UN's leading human rights body. It shapes standards, allows for the peer review of states, and facilitates the essential participation of civil society. Crucially, it gives a voice to those denied their human rights and holds the perpetrators of violations and abuses to account. But we – all of us - must not be complacent. As we stated in March, we continue to be deeply concerned with the Council's unacceptable pattern of bias through Item 7. The Council's agenda and actions must be balanced, meaningful and credible. And its elected members must strive to uphold the highest standards of human rights. Anything less is a betrayal of our mandate.
Published 11 September 2017