World news story
Human Rights Council 36: Human Rights in Burma
This UK statement was delivered at the 36th session of the Human Rights Council during the Interactive Dialogue with the Fact Finding Mission on Burma on 19 September 2017.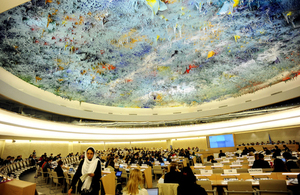 The United Kingdom thanks the Fact Finding Mission its update.
Tragically, the events of last October that led to the Fact Finding Mission's establishment in the 34th session are repeating themselves today with greater intensity. The UK strongly condemns the escalating violence against Rohingya Muslims. It is the security forces in the lead in Rakhine, under the Commander in Chief, Min Aung Hlaing. We call upon them to stop all attacks, abide by international norms, protect all civilians, and prevent further exacerbation of the humanitarian crisis in Rakhine.
But while the international community's focus is drawn to Rakhine, we must not forget on-going conflict in Kachin State and Shan State, and credible reports of human rights abuses and violations in those regions.
That is why the work of the Fact Finding Mission is crucial. By establishing the facts and circumstances of the allegations of recent human rights violations by military and security forces, and abuses by non-state actors, there can be accountability for perpetrators.
The UK notes the Burmese Government's Burma's view that the situation in Rakhine has been misrepresented internationally. This Fact Finding Mission is Burma's opportunity to set out its position. The UK urges Burma to urgently grant access to the Mission and cooperate fully with its mandate.
How does the Fact Finding Mission intend to give equitable coverage to the full range of issues in its mandate?
Published 19 September 2017