World news story
Human Rights Council 36: Debate on countries of concern
This UK statement was delivered at the 36th session of the Human Rights Council during the Item 4 General Debate on 19 September 2017.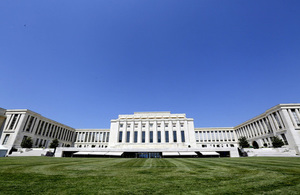 The UK would like to refer to our interventions in interactive dialogues on South Sudan and Burundi.
We were saddened by the death of Nobel Laureate Liu Xiaobo, and concerned by the handling of his case. We call for the lifting of all limitations on his widow, Liu Xia. We remain concerned by restrictions to civil and political freedoms in China, and the continued detention of human rights lawyers and defenders.
We are appalled by the continued human rights violations in the Democratic People's Republic of Korea, and urge the regime to put the welfare of its people above its reckless pursuit of its ballistic missile and nuclear programmes.
We again raise the desperate plight of the Rohingya Muslims of Burma's Rakhine state. The security forces bear responsibility for this humanitarian crisis, which has resulted in many killings and hundreds of thousands fleeing from attacks, and seeking sanctuary in Bangladesh. We urge the civilian Government to join us in calling upon the security forces to stop the violence.
We continue to condemn the persecution of LGBT persons in Chechnya. The Russian authorities must honour their commitment to carry out a thorough investigation. We remain deeply concerned by the human rights situation in illegally annexed Crimea.
Iran's human rights record remains of serious concern. The continued use of the death penalty, weak rule of law and restrictions on freedoms of expression, religion and belief are deeply worrying.
Restrictions on civil society and media freedoms in Egypt, including the blocking of media and NGO websites will not divert international or domestic, Egyptian, attention from reports of torture, enforced disappearance and extra-judicial killings.
The UK condemns the continued, horrifying violations and abuses of human rights in Syria, where the regime repression bears overwhelming responsibility for the suffering of the Syrian people. This is alongside Daesh's persistent and widespread abuse of human rights.
The election of the Constituent Assembly in Venezuela, and its ongoing erosion of democratic institutions and processes, is unacceptable. We urge the Government to respect the role of the democratically elected National Assembly, ensure that elections are free and fair, accept international aid, and free all political prisoners.
Published 19 September 2017