World news story
Human Rights Council 36: Human Rights in South Sudan
This UK statement was delivered at the 36th session of the Human Rights Council during the Interactive Dialogue on the situation of human rights in South Sudan on 18 September 2017.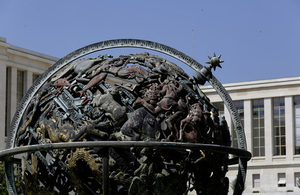 Whilst we note the South Sudanese Government's cooperation with the Commission, we remain unable to comprehend the extraordinary levels of violence inflicted on non-combatants. Innocent civilians are paying the price for this crisis - targeted and killed on the basis of their ethnicity. Women and children are subject to horrific levels of sexual and gender-based violence. Rape is being used as a weapon of war, and perpetrators continue to act with impunity.
The human rights abuses and violations committed in South Sudan are unacceptable. All sides must make concerted efforts to bring them rapidly to an end. The government must meet its obligations under international humanitarian and human rights law, and under its own constitution, to respect and promote the rights of its citizens.
The UK strongly condemns the recent actions of all parties targeting humanitarian workers. With 18 aid workers killed already this year, South Sudan is one of the most dangerous operating environments in the world.
Justice for victims is vital for any sustainable peace. We call on the African Union and the South Sudanese Government to work together to immediately establish an independent justice mechanism.
We would like to ask the Commission what mechanisms they think the IGAD (Intergovernmental Authority for Development) can put in place to ensure that those responsible for human rights abuses and violations in South Sudan are held accountable.
Published 18 September 2017