Human Rights Council 36: Human Rights in Burundi
This UK statement was delivered at the 36th session of the Human Rights Council during the Interactive Dialogue with the Commission of Inquiry on Burundi on 19 September 2017.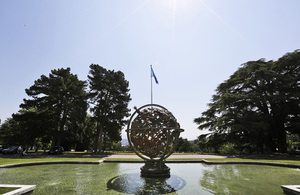 The UK thanks the Commission of Inquiry members for their work, and for this alarming report.
The UK is deeply concerned that the Commission has found reasonable grounds to believe that crimes against humanity have been committed. We are extremely concerned by the report's conclusions that the majority of the human rights violations, including excessive use of deadly force, torture and ill treatment, sexual violence, extrajudicial executions and arbitrary detentions, have been carried out by the Burundi security and defence forces. Clearly these are not the actions of a state committed to upholding the highest standards in the promotion and protection of human rights as required by members of the Human Rights Council.
To date, the Burundian Government has refused to engage with the international community, including with this Commission, to bring an end to the violence and hold the perpetrators to account. We urge the authorities to use the Commission's report as an opportunity to rethink this stance before the situation deteriorates further.
We are deeply concerned at reports that gunmen forcibly entered the office of the United Nations High Commissioner for Human Rights in Bujumbura. The Government of Burundi has a duty to protect diplomatic staff and premises.
Assuming the mandate is renewed, how does the Commission intend to continue to work with regional and international bodies, and what immediate steps can the international community take to prevent a further deterioration?
Published 19 September 2017