World news story
Human Rights Council 31, UK Statement under Item 2, 10 March 2016
United Kingdom of Great Britain & Northern Ireland Statement under Item 2 - Human Rights Council 31, 10 March 2016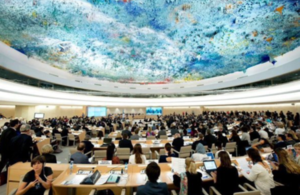 Thank you, Mr. President.
We thank you, High Commissioner, for your report and welcome your call on all states to uphold human rights obligations, and for your efforts to strengthen the rules based international system.
The UK remains gravely concerned about a number of critical human rights situations, especially in Syria and DPRK; also in Burma, though we are encouraged by the recent historic parliamentary elections. We will address these issues later this session.
High Commissioner, we welcome your recent visit to Sri Lanka and the government's cooperation with you and your office. We remain firmly committed to the full implementation of the resolution adopted in September and stand ready to help Sri Lanka. We encourage the government to continue in its efforts to help bring lasting peace to Sri Lanka, including by establishing credible and consultative reconciliation and accountability mechanisms and, by strengthening its engagement with your office.
In Egypt, we are deeply concerned about detentions of political and civil society activists and journalists, deaths and reports of torture in police detention and prisons, and the continued narrowing of space for civil society to operate freely. The UK believes that respect for human rights is fundamental to Egypt's long-term stability.
In the Maldives, the UK continues to have serious concerns regarding judicial independence and declining democratic space. We would welcome an inclusive national political dialogue. The government's wish to continue to work with the Commonwealth is positive. We encourage the government to give effect quickly to its commitments to strengthening democracy, human rights and rule of law, and to release all political detainees.
We remain gravely concerned about the situation in Burundi. We are particularly alarmed at increasing reports of human rights violations and abuses, including sexual violence, assassinations and disappearances; as well as hate speech and incitement to violence. We continue to call on all parties to end the violence and restore the protections given to the people of Burundi in their Constitution and the Arusha Accords.
The UK remains extremely concerned by the situation in Israel and the OPTs, where violence has resulted in deaths and injuries. We also remain concerned by the use of administrative detention and treatment of Palestinian detainees, of all ages.
Finally, I would like to turn attention to Daesh. The UK Government is appalled by the brutal human rights abuses perpetrated by Daesh against all communities under its control.
Thank you Mr President.
Published 10 March 2016