World news story
Human Rights competition for journalists announced
Invitation for journalists to submit entries for the competition on human rights protection in Ukraine.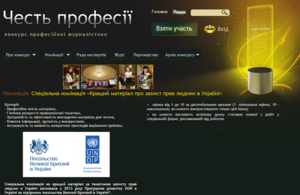 UNDP Ukraine with the support of the British Embassy in Ukraine has announced the 5th journalists' competition "Honour of the profession 2013". The competition aims to profile high quality journalism which identifies systemic problems in the sphere of human rights protection and suggests specific solutions.
Submissions are invited from all professional journalists working in press, TV, radio and Internet media outlets. Entries should be submitted by 31 March 2013.
The jury will use the following criteria for evaluating all entries:
Quality of the material
In-depth approach to human rights problems
Clarity for the reader
Exhaustiveness of information, reader friendliness
Entries should contain specific examples of solving problems
Analytical materials on human rights situation in Ukraine will be given preference.
Published 19 February 2013