World news story
Human Rights and Democracy Report launch
The Foreign Secretary William Hague has launched the Foreign Office Human Rights and Democracy report for 2012.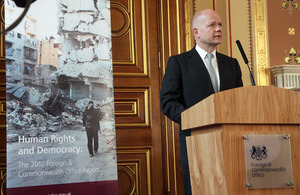 Human rights are a top priority for the FCO and this report covers UK actions to stamp out abuses all over the world.
The report provides an analysis of 27 countries of concern, including the Democratic People's Republic of Korea (DPRK), Syria and Iran.
It also covers thematic issues like the promotion of human rights at the UN and human rights for British Nationals overseas.
The prevention of sexual violence in conflict, a priority for the Foreign Secretary and a topic of discussion at the recent G8 Foreign Ministers meeting, is also a focus within the report.
Speaking at the launch of the report, Foreign Secretary William Hague said:
Whether it's seeking a moratorium on the death penalty, or ending what is happening in Syria, or rallying the international community to destroy the culture of impunity that surrounds sexual violence in conflict, the promotion of human rights is at the forefront of the work of the FCO and of my own objectives as Foreign Secretary.
Further Information
Read the 2012 Human Rights report
Read previous years FCO Human Rights reports
The Foreign Secretary delivered a written ministerial statement to Parliament on the report
Published 15 April 2013