Press release
Human Rights and Democracy Report 2012 - case study- India
The rape and subsequent death of a female student in New Delhi in December generated widespread media and public attention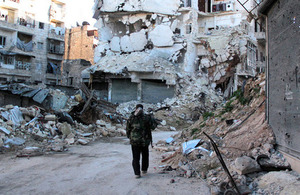 Latest Update: 17 October 2013
India has a strong democratic framework, which guarantees human rights within its constitution. However, it faces numerous challenges relating to its size and social and economic development. The UK government is working with the Indian government and non-government partners to build capacity and share expertise to tackle these and other challenges, including the promotion and protection of human rights.
Following on from the case study featured in the FCO's 2012 Human Rights and Democracy Report, the Justice Verma Committee (established by the Indian government to review the capacity of India's institutions to deal with crimes against women) published its report with key recommendations including increasing the minimum sentence for a rapist from seven years to ten years, and life imprisonment meaning a prison sentence for 'the entire natural life of the convict'.
Following these recommendations, the Indian parliament passed the Criminal Law Bill which aims to strengthen India's laws on violent crimes against women. The bill seeks to penalise public servants who fail to discharge their duty relating to sexual offences, and contains new penalties for stalking, groping, voyeurism and acid attacks. A number of provisions under this new legislation carry the death penalty as a sentence.
There are also plans to create 1,800 fast-track courts for rape. Some have already been established in several states, including Delhi, Chhattisgarh and Assam, and the Supreme Court and the High Courts are now working on appointments of at least 2,000 judges for these new legal facilities.
On 13 September, the four men convicted of the rape and murder of a female student in New Delhi in December 2012 were sentenced to death. All four men are now appealing both their conviction and the sentence. One juvenile was also found guilty of the crime and was sentenced to three years in a correctional facility – the maximum sentence for a juvenile. The sixth accused committed suicide while awaiting trial.
In addition to the work the UK Government conducts with the Indian government on women's rights, the British High Commission in New Delhi recently commissioned two FCO projects working with civil society organisations on women's issues. The Department for International Development (DFID) continues to support a range of rights-related activities in India, including support for government education and health programmes that help to deliver India's right to education and domestic violence acts. DFID also supports civil society to work with government to promote and protect human rights, with activity focused on the rights of women and marginalised groups including Dalits and tribal people.
Latest Update:10 April 2013
The rape and subsequent death of a female student in New Delhi in December generated widespread media and public attention in India, and brought women's rights sharply into focus. Since this incident Indian authorities have taken new steps to protect women, including introducing fast-track courts and public safety measures. Fast-track courts for rape have been established in several states, including Delhi, Chattisgarh and Assam. Public safety measures include help-lines, women police/prosecutors and installation of public transport cameras.
A judicial committee was also established by the Indian government to review the capacity of India's institutions to deal with crimes against women and to recommend further wide-ranging reforms.
In recent years, the Indian government has demonstrated its wider commitment to improving the lives of women and girls by initiating and funding large, innovative programmes, including schemes covering maternal health and participation in education, which are enabling millions more women and girls to access services. Legal reform (which also addresses domestic violence), along with increased media scrutiny, is also helping to change the boundaries of accepted attitudes and behaviour. Between 2011 and 2012, India improved its ranking from 113th to 105th in the World Economic Forum's Global Gender Gap Report. However, inequality, discrimination and domestic violence are still pervasive, particularly in India's poorest states. Indian government data indicates that 34% of Indian women have experienced physical violence since the age of 15.
Changing the lives of women and girls is at the heart of DFID's programme in India. Support for national and state governments includes helping all girls to complete basic education, further reducing maternal mortality and tackling violence against women and girls.
DFID India's two large civil society programmes also seek to improve the lives of women and girls in India. The Poorest Areas Civil Society Programme addresses social exclusion, the strongest barrier to inclusive growth. It targets India's poorest and most disadvantaged groups: Dalits, Tribal People, Muslims, disabled people and women. The International NGO Partnerships Agreement Programme harnesses local and international experience to develop new ideas for tackling social exclusion.
The UK Government conducts a range of bilateral activities on women's rights with the Indian government, media and civil society. The FCO has also supported Indian civil society organisations on a number of smaller-scale projects aimed at promoting women's rights and women's empowerment.
Further Information:
Read and Comment in EnglishHuman Rights and Democracy Report 2012 - case study- India
Read and Comment in EnglishHuman Rights and Democracy Report 2012- Full Report