Press release
Hugo Swire statement at UN Human Rights Council
UK Statement for the Interactive Dialogue with Special Rapporteur on human rights in North Korea.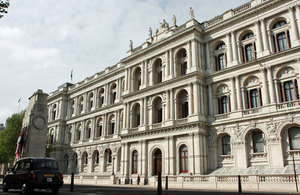 Delivered by Foreign and Commonwealth Office Minister Hugo Swire in Geneva on 18 June 2014.
Mr President,

The UK welcomes the reappointment of the Special Rapporteur, and pays tribute to his work, not only during the Commission of Inquiry, but since his appointment in 2010.

However, we deeply regret the DPRK's continued refusal to engage with him.

We renew our call for the DPRK to respond in detail to the horrifying findings of the Commission of Inquiry report and to take immediate action to implement its recommendations, not least by giving full and unimpeded access to the Special Rapporteur.

The scale and brutality of the sustained and systematic human rights violations in the DPRK calls for action. We cannot allow the failure of a small number of States to support the Resolution in March to give the impression that the DPRK's actions are acceptable.

They are not.

Authorities in the DPRK must demonstrate genuine respect for the rights of its citizens.

We must offer them every support in this, if they demonstrate a willingness to engage. And we must find ways to deter them, if they do not.

In the absence of progress in the DPRK, our focus must be on accountability – not least by ensuring that possible crimes against humanity are appropriately investigated, by a body such as the International Criminal Court.

With these objectives in mind, I would like to ask the Special Rapporteur:

Firstly, what role do you see for the new field office in Seoul? How can members of the Council support it, and you, in monitoring and documenting human rights violations and abuses in the DPRK?

And secondly, what role can the Special Rapporteur play in waking the world up to what is happening in DPRK, and in persuading countries to support accountability, to increase pressure for change, and to respect the principle of non-refoulement.

Mr President,

For too long the international community has been unable or unwilling to prevent the terrible suffering of the North Korean people.

It is time for this to change.

We must make clear to the DPRK that we find its appalling human rights record as unacceptable as its pursuit of nuclear capabilities. Working to address proliferation and addressing our concerns on human rights should not be mutually exclusive - in fact they should be mutually reinforcing.

We must, in short, raise our game.

I can give this assurance. If the DPRK shows willingness to engage with us on this, we in the UK stand ready to respond. Until then, we must not allow history to judge us as the generation who looked the other way.
Further information
Follow Foreign Office Minister Hugo Swire on twitter @HugoSwire
Follow the Foreign Office on twitter @foreignoffice
Follow the Foreign Office on facebook and Google+
Published 18 June 2014