News story
Hugo Swire responds to Sri Lanka report update
Hugo Swire urged all sides to continue to work together to ensure that the OHCHR's report on Sri Lanka, now due in September, is thorough and consistent.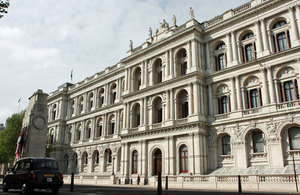 Speaking the day after the UN Human Rights Council agreed to defer publication of the report from March to September 2015, Mr Swire welcomed the opportunity for contribution from the Sri Lankan government and restated the UK's commitment to seeing this report published.
Mr Swire said:
The UK wants to see reconciliation in Sri Lanka. That's why we argued last year for a UN investigation into alleged war crimes and it is why we supported the deferral of this report for six months.

We believe that the extra time will create an opportunity for the new Sri Lankan government to deliver on its commitment to engage with the UN investigation, potentially generating additional material to inform the High Commissioner's report. And it will allow the Sri Lankan government to establish their own credible accountability processes.

The UN investigation is a vital part of the process of addressing the grievances of those affected by the conflict and of achieving lasting peace in Sri Lanka. And we recognise how important this report is for many communities in Sri Lanka and around the world who are looking for answers. That's why we, and the UN High Commissioner for Human Rights, have made clear that the report must be published and discussed by September 2015 and we will stick to that.

In the meantime, the new Government of Sri Lanka must use this time to work with the High Commissioner and his Office, and to engage with the broadest possible spectrum of civil society groups within Sri Lanka in order to make progress on reconciliation, accountability and human rights. They have a real opportunity to build a successful, inclusive and prosperous future for their country. But achieving that potential is all about reconciliation. It's about bringing justice and closure and healing to Sri Lanka and we encourage the Sri Lankan government to take this path to a brighter future.
Further information
Follow Foreign Office Minister Hugo Swire on twitter @HugoSwire
Follow the Foreign Office on twitter @foreignoffice
Follow the Foreign Office on facebook and Google+
Published 17 February 2015