News story
Hugo Swire looks forward to Burmese elections as campaign gets underway
At the start of the official Burma election campaign, Hugo Swire notes that these could be Burma's most significant elections for over 50 years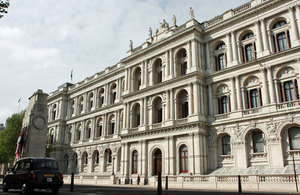 On 8 November, the Burmese people will go to the polls. These could be the country's most important parliamentary elections since 1960 and a critical marker in the country's reform process.
UK funding is supporting technical advice to the Burmese election commission, voter education, and the monitoring and observation of the electoral process. We will also participate in an international EU-led Election Observation Mission.
Speaking ahead of the first official day of campaigning, the Minister for Asia, Hugo Swire, said:
2015 could be a landmark year in Burma's modern history. The elections on 8 November have the prospect of being the first time since 1960 that the people of Burma have their voices heard nationwide at the ballot box - even if there remain unresolved constitutional issues around them.

Burma has come far since embarking on its programme of democratic reform in 2011, although there have been some serious setbacks and there remains much to be done. The elections will be a litmus test for the reform process so far, and have the potential to be a historic milestone in the transition from dictatorship to genuine democracy.

It is vital for Burma's future that the elections are credible, inclusive and transparent, and that they are underpinned by freedom of expression and respect for human rights. I have no doubt that there will be enormous international support and encouragement for this.
Further information
Published 7 September 2015