News story
Hugo Swire holds high-level talks in Malaysia and Vietnam
Minister for Asia, Hugo Swire, has made his second official visit to Malaysia and is making his first to Vietnam.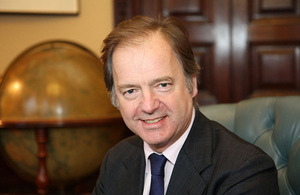 Hugo Swire co-chaired the second Global Islamic Finance and Investment Group (GIFIG) meeting in Kuala Lumpur with Tan Sri Governor Zeti Akhtar of Bank Negara Malaysia, reaffirming the two countries' leadership role in Islamic finance.
He held foreign policy talks with YB Dato' Hamzah Zainudin, the Deputy Minister of Foreign Affairs, as well as meeting YB Dato' Seri Idris Jusoh, the Malaysian Minister of Education, and promoting UK universities. He also met Nurul Izzah Anwar, Vice President of opposition party PKR and daughter of Anwar Ibrahim.
Mr Swire will now travel to Vietnam to co-chair the annual UK-Vietnam Strategic Dialogue with the Vietnamese Vice Minister of Foreign Affairs, Bui Thanh Son. It will cover shared objectives in trade, education, defence, organised crime and illegal migration. The two sides will also discuss global challenges such as ISIL, Syria, Iraq, Ukraine, Ebola and the illegal wildlife trade.
Mr Swire will separately meet the Vietnamese Deputy Prime Minister Pham Binh Minh and members of the business community.
Minister Hugo Swire said:
Malaysia is an important partner and friend to the UK. I am particularly excited by the work we are doing together on education. Malaysia now has more UK university campuses and takes more UK qualifications than any other country, making it the UK's biggest market for transnational education. More broadly, we have grown trade and investment links, and we have been working closely to help unlock the great potential of Islamic Finance.

I am also pleased to be visiting Vietnam for the first time. Our Strategic Dialogue allows us to make progress on regional and global issues, and is an example of the increased investment the UK is making in our relationships right across Asia. We hope that Vietnam can play an increasingly active international role, not least given their seat on the UN Human Rights Council and their commitment to contribute to UN peacekeeping missions. We are also looking to collaborate more closely on research and innovation and I am delighted to be launching the Newton Fund in Vietnam to support that.
Further information
Bilateral trade between the UK and Malaysia totalled £4.605bn in 2013, an increase of 27% from £3.629bn in 2009.

Malaysia is the UK's biggest market for the provision of transnational higher education, with around 15,000 Malaysians studying in the UK and another 58,000 individuals studying in Malaysia for a UK tertiary qualification.

Signed in 2010, the UK-Vietnam Strategic Partnership Agreement outlines cooperation between the two countries on political and diplomatic cooperation; global and regional issues; trade and investment; sustainable socio-economic development; education, training, science and technology; security and defence; and people-to-people links.

As part of this agreement, the two countries have annual bilateral talks called the Strategic Dialogue. The talks are an opportunity to discuss a broad range of bilateral issues, as well as sharing views on wider international issues. The UK and Vietnam take it in turn to host the Strategic Dialogue. This will be the fourth one; the third UK-Vietnam Strategic Dialogue was held in London in October 2013.

The Newton Fund is part of the UK's official development assistance. Its aim is to develop science and innovation partnerships that promote economic development. The find is £75 million each year from 2014 for five years. Vietnam is one of 15 partner countries in the Newton Fund, an ODA programme led by BIS to support research and innovation partnerships between the UK and emerging economies through to 2019. It's an example of a new way in which the UK is seeking to support Vietnam's social and economic development.
Follow Foreign Office Minister Hugo Swire on twitter @HugoSwire
Follow the Foreign Office on twitter @foreignoffice
Follow the Foreign Office on Facebook and Google+
Published 26 February 2015