Press release
Hugo Swire calls on Ecuador to support legal process in Julian Assange case
Hugo Swire and the British Ambassador in Quito reiterate the need for Ecuador to expedite the Swedish Prosecutor's interview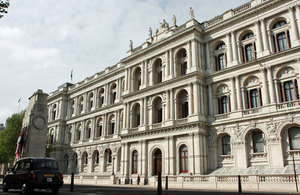 The British Ambassador in Quito will today make a formal protest to the Government of Ecuador, as the first three of the four serious sexual allegations against Julian Assange expire.
Foreign and Commonwealth Office Minister of State, Hugo Swire said:
Ecuador must recognise that its decision to harbour Mr Assange more than three years ago has prevented the proper course of justice. As a result, some of the serious sexual allegations against him will now expire. It is completely unacceptable that the British taxpayer has had to foot the bill for this abuse of diplomatic relations.

I want to make clear that as an allegation of rape remains outstanding, the UK continues to have a legal obligation to extradite Mr Assange to Sweden. I have instructed our Ambassador in Quito to reiterate to Ecuador that the continuing failure to expedite the Swedish Prosecutor's interview, and to bring this situation to an end, is being seen as a growing stain on the country's reputation. I will also repeat this to the Ecuadorean Ambassador in London.
Further information
Published 13 August 2015