Press release
Huge reduction in benefit dispute waiting times
New figures show the average waiting time for disputes against benefit decisions have dropped substantially.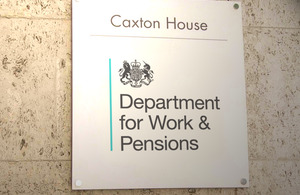 New figures show the average waiting time for disputes against benefit decisions have dropped substantially, from over 6 months to under a fortnight on average, thanks to a new and quicker system introduced by the government.
Ministers last year fundamentally reformed the way the Department for Work and Pensions manages benefit disputes – introducing a system called mandatory reconsideration, where officials look again at decisions and any additional evidence before it goes to an appeal tribunal.
It has radically speeded up the appeals process – removing the need for many people to rely on tribunals which take on average over 6 months to reach decisions – and can sometimes take as long as a year.
Streamlining of the disputes process is part of the government's long-term plan to reform welfare and ensure benefit support is better targeted at those who need it most. The government currently spends around £94 billion a year on working-age benefits.
Work and Pensions Minister Mark Harper said:
Cutting the time people are waiting to resolve benefit disputes from over 6 months to an average of just 2 weeks is good news for claimants and the taxpayer.

Fewer appeals going to tribunal avoids protracted and costly procedures for the taxpayer and the claimant. Our reconsideration system now makes sure people who are entitled to benefits get them sooner.

As part of the government's long-term economic plan, we are committed to helping as many people into work as possible, rather than just writing them off on out-of-work benefits as happened in the past. We also want to make sure we help and support those too sick to work, which we are doing.
Claimants now have the chance to challenge a decision if they feel it is incorrect and provide additional evidence at the earliest possible opportunity.
The latest statistics show that the proportion of people appealing to a tribunal against ESA decisions have dropped sharply by 86% between July and September 2014 – compared to the same period last year.
98% of all mandatory reconsideration requests made between the end of October 2013 and the end of October 2014 have been re-examined and cleared.
More information
Read the statistics on disputes against benefit decisions from July to September 2014 and data to October 2014.
Contact Press Office
Media enquiries for this press release – 0203 267 5106
Press Office
Caxton House
Tothill Street
London
SW1H 9NA
London Press Office (national media and London area enquiries only – not questions about personal claims) 020 3267 5144
Out-of-hours (journalists only) 076 59 108 883
England and Wales (local media enquiries) 029 20 586 then 097 or 098 or 099
Scotland (local media enquiries) 0131 310 1122
Follow DWP on:
Published 10 January 2015