Press release
HS2 Growth Taskforce meets key figures from London to maximise high speed rail benefits
As part of a series of UK-wide visits, HS2 Growth Taskforce is meeting key figures in London.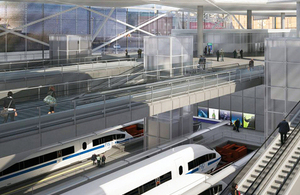 The HS2 Growth Taskforce is meeting key figures from London today (13 December 2013) as part of a series of UK–wide visits designed to ensure regions maximise the economic benefits of high speed rail.
HS2 is set to play a major role in boosting rail capacity, job creation, regeneration and development in London and the south east. As the gateway to the cities of the Midlands and the north, Euston Station will be redeveloped bringing improved facilities for passengers, better connections with the Underground and potential for new homes, offices and shops above.
There are also huge regeneration opportunities around a new interchange at Old Oak Common in west London. Land here will be a highly attractive investment proposition for developers and HS2 Ltd is exploring potential partnerships with local authorities and private sector investors to maximise economic growth.
It is estimated that development of Old Oak Common and the wider area could lead to the creation of 24,000 new homes and 50,000 jobs. Recently the redevelopment of King's Cross Station saw public investment of £500 million attract £2.2 billion of private sector investment.
The growth taskforce is working with local government and business leaders to see how London can make the most of these and other opportunities provided by HS2.
Commercial Secretary to the Treasury and Chair of the HS2 Growth Taskforce Lord Deighton said:
HS2 is a nationally important project with the potential for huge local rewards if we get it right. In London there will be 2 HS2 stations meaning double the redevelopment opportunities, as well as thousands of jobs for Londoners through construction and ongoing private investment.

But growth and regeneration will not just be handed on a plate and it is vital that businesses and leaders across London act now to harness the huge potential that the new north-south line offers.

The growth taskforce is determined to see the benefits of HS2 stretch far and wide. That is why meeting with city and business leaders is so vital. By planning ahead and thinking big, London could start to benefit long before the first HS2 train arrives.
Deputy Mayor of London for Planning Sir Edward Lister said:
London needs additional investment into rail infrastructure in order to cope with the increased demand of a population boom. The big opportunity from HS2 is regeneration, and this must not be missed. In London, Old Oak Common and Euston can be made into entirely new city quarters delivering tens of thousands of homes and jobs for Londoners but only if we get the HS2 design and funding correct.

We welcome today's drive by the HS2 Growth Taskforce to work with the capital's key organisations on formulating its recommendations to government.
Euston Station is already operating close to capacity, with 11,300 seats in the peak hour and people standing in 4 out of 10 trains. HS2 could boost this to 34,900 seats per hour and will free up capacity on the West Coast and Midland Mainlines allowing for additional commuter services into London from places such as Watford, Milton Keynes, Rugby and Northampton.
Network Rail's report, Better Connections, shows how over 100 towns and cities on the existing network could benefit from quicker, more frequent journeys and faster connections.
In its initial report HS2 Growth Taskforce: the challenge, the development of the areas around stations is identified as potentially a significant contributor to additional benefits and growth from HS2. Over the coming months, HS2 Ltd will be exploring potential partnerships with local authorities and private sector investors to support station development and regeneration.
The government believes HS2 will be a key driver of jobs and growth.
Research published recently by KPMG showed that HS2 could boost productivity in Greater London by up to £2.8 billion per year within 5 years of the railway opening. The government sees the taskforce as crucial in unlocking this potential.
Membership of the taskforce - an independent expert group comprising senior business, academia and local government representatives - was originally confirmed in July.
In the initial report, Lord Deighton says towns and cities across the country need to act now to become 'HS2-ready'. The report sets out the key areas on which its final report will focus. It will provide recommendations to government early next year.
The regional visits will continue until early next year with further meetings set to take place across the country. Crucially they will also involve representatives from non station cities ensuring the taskforce hears from as many people as possible.
HS2 will:
better connect 18 of Britain's cities either directly or indirectly
provide 351 miles of track linking London to Birmingham and Birmingham to Manchester and Leeds
see Phase One open in 2026 and Phase Two open in 2033
see up to 18 trains per hour run in each direction with Phase Two
see trains run at 225 miles per hour, with the potential to increase this to 250 miles per hour
HS2 and major projects media enquiries
Media enquiries 020 7944 3021
Out of hours media enquiries 020 7944 4292
Switchboard 0300 330 3000
Published 13 December 2013