Press release
Growth boost for HS2 as taskforce membership confirmed
A skilled team, including Sir Howard Bernstein and Sir Albert Bore, is joining the HS2 Growth Taskforce.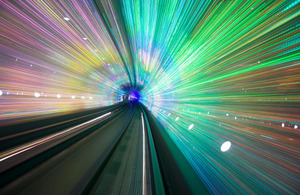 Senior figures from business, academia and local government have joined the HS2 Growth Taskforce, Transport Secretary Patrick McLoughlin announced today (31 July 2013).
The independent expert group was set up last month to maximise the economic benefits – including job creation – generated by the flagship rail project and is chaired by Commercial Secretary and former LOCOG boss Lord Deighton.
The government believes HS2 will be a key driver of jobs and growth. Independent analysis commissioned by Greengauge 21 predicts that HS2 is capable of generating up to 22,000 jobs in the next 5 years, rising to a maximum of 50,000 jobs by the late 2020s. The government sees the taskforce as crucial in unlocking this potential.
The HS2 Growth Taskforce will comprise:
Lord Deighton, Commercial Secretary to the Treasury (chair)
Sir Howard Bernstein, CEO Manchester City Council (deputy)
Sir Albert Bore, Leader Birmingham City Council
Sir John Rose, Deputy Chairman Rothschild Group
Frances O'Grady, General Secretary of TUC
Neale Coleman, Mayor of London's Adviser on Olympic Legacy
Prof Tony Venables, Oxford University
Alison Nimmo, CEO Crown Estate
Pete Waterman, Cheshire and Warrington LEP
Cllr Julie Dore, Leader Sheffield City Council
Cllr Matthew Colledge, Leader of Trafford Council
Lorraine Baldry, Chair of London and Continental Railways
Commercial Secretary to the Treasury Lord Deighton said:
HS2 presents a massive opportunity to boost growth in regions across the UK and it's vital that we talk to business leaders, public sector organisations, local government and the public about how we maximise the benefit to the whole of the country.

I am delighted to have such a skilled team working with me on the HS2 taskforce. They know the huge benefits large scale infrastructure projects can bring if they are done in the right way.

I am confident that together we have the right blend of experience and expertise to make sure HS2 delivers its full potential in terms of jobs and growth.
Transport Secretary Patrick McLoughlin said:
HS2 is about far more than just a new railway, it provides a once in a generation opportunity to drive growth, generate jobs, and secure our country's future prosperity. We have no choice but to address the increasing demands on our transport system that Britain will face in the next decade to be able to compete in the global economic race.

Lord Deighton has pulled together an incredibly impressive group of people for this taskforce, all highly respected experts in their field. Their skills and experience will help ensure that we squeeze every possible benefit from this vital project.

Building on the success of HS1 and its role in the transformation of Kings Cross, HS2 will act as catalyst to city centre regeneration and major development schemes. HS2 is a huge project and I am determined to get maximum payback from the investment.
HS2 Ltd Commercial Director Beth West said:
We welcome the appointment of the members of the HS2 Growth Taskforce. We look forward to hearing their thoughts and value their expertise to help us deliver the maximum payback from the investment in HS2.

Their collective knowledge will further strengthen our ability to make HS2 a catalyst for Britain's future prosperity, supporting economic growth and assisting towns and cities to deliver regeneration, skills and jobs".
The taskforce will seek to learn from and build on the success of Crossrail's supply chain, where billions of pounds of contracts have been awarded across the UK from Falmouth to Inverness. Looking at British and international experiences of driving growth from major infrastructure investments, the taskforce will set out options and make recommendations on:
maximising regional and national growth opportunities
getting British industry and the UK workforce ready to respond to the vast array of opportunities HS2 will provide - 70% of jobs created by HS2 are expected to be outside London
ensuring HS2 delivers as a catalyst for economic growth and regeneration around the stations and surrounding communities
ensuring job opportunities from HS2 can be maximised and advising what contribution HS2 can make to the skills and training agenda
maximising the potential to use the buying power of HS2 to improve supply chains and manufacturing capacity across the UK.
It will also engage heavily with the core cities and local enterprise partnerships to ensure the benefits of HS2 are felt far beyond the station cities.
The HS2 Growth Taskforce will publish an initial report later this year and will submit its final report to government early next year. This will then drive forward a programme of work with the core cities to ensure that the vast array of economic opportunities presented by HS2 are maximised.
Notes to editors
HS2 will generate over £50 billion of benefits for the UK economy along with 100,000 jobs – core cities group predict it will actually underpin over 400,000 jobs.
Even before it is open, some estimates suggest HS2 will add £4.2 billion to the economy.
Key facts and figures:
eight of Britain's largest 10 cities with be linked by HS2
overall 18 cities will be linked by HS2 services from 2033
up to 18 trains per hour can run in each direction
trains will run at 225 miles per hour, with the potential to increase this to 250 miles per hour
The first meeting of the HS2 Growth Taskforce is taking place today (24 July 2013).
Read the terms of reference for the group
Biographies
Lord Deighton
Lord Deighton joined the Treasury having successfully completed his role as Chief Executive of the London Organising Committee of the Olympic and Paralympic Games (LOCOG), which was responsible for preparing and staging the London 2012 Games.
Over 6 and a half years as CEO he was in charge of the day-to-day operations of the company, overseeing recruitment of a workforce of around 6,000 paid staff, up to 70,000 volunteers and around 100,000 contractor roles as well as the procurement of £700 million-worth of contracts to help deliver the hugely successful Games.
Prior to joining London 2012, Lord Deighton was the Chief Operating Officer of Goldman Sachs in Europe, and a member of its European Management Committee. At Goldman Sachs he worked in a variety of management and client-facing roles for over 22 years, and was appointed a partner of the firm in 1996. Before joining Goldman Sachs in 1983, Lord Deighton worked for both Security Pacific National Bank and Bank of America.
Sir Howard Bernstein
Sir Howard joined Manchester City Council as Junior Clerk in 1971, becoming Chief Executive in 1998. He has been Clerk to Transport for Greater Manchester Committee since the mid-1980's, where he has taken a leading role in introducing Metrolink. He was involved in the establishment of Manchester Airport as a plc in the mid-1980's and continues to play a lead role in its on-going expansion.
Following the terrorist bombing of Manchester city centre in 1996, he became Chief Executive of Manchester Millennium Limited (1996 to 1999), the public and private sector taskforce which was established to oversee the redesign and rebuilding of the area. He was also instrumental in securing Manchester as Host City for the XVII Commonwealth Games in 2002 and delivering what was then the largest multi-sport event ever hosted by the UK and the most successful games ever.
External appointments include: member of the London 2012 Olympic Delivery Authoirty from 2006 to 2008; Chairman of Blackpool Urban Regeneration Company 2008-2010. He is currently Chair of the West End Commission which is looking at the future of London's West End. Sir Howard was knighted for his services to Manchester in 2003.
Sir Albert Bore
Political Party: Labour Entered Council: May 1980
Elected as a member of Birmingham City Council in 1980, Sir Albert Bore has taken a major role in the regeneration of the city. Since the mid 1980's he has held company directorships of both Aston Science Park and the National Exhibition Centre. He is also a director of Marketing Birmingham. From 1984 to 1993 he chaired the City's Economic Development Committee.
Since 1994 Sir Albert has been one of the government appointed members of the European Union's Committee of the Regions, and was President from 2002 to 2004. He is currently Leader of Birmingham City Council and was previously from 1999 to 2004.
In December 2006, he was appointed Chairman of the University Hospitals Birmingham NHS Foundation Trust. He is a former university lecturer and holds and PhD in Physics.
Sir John Rose
Sir John Rose joined Rolls-Royce Group plc in 1984 and was Chief Executive from 1996 to March 2011. He is Chairman of the Holdingham Group, Deputy Chairman of Rothschild Group and a Director of BW Shipping. Sir John is an Adviser to the Greenbriar Equity Group and the Abu Dhabi Executive Affairs Authority. He is also a trustee of the Eden Project and the Baker Dearing Trust.
Frances O'Grady
Frances has been an active trade unionist and campaigner all her working life. She has been employed in a range of jobs from shop work to the voluntary sector.
In 1997, Frances was appointed to head up the New Unionism campaign and launched the TUC's Organising Academy. Frances went on to head up the TUC's organisation department in 1999 and launch the TUC's education and training arm, unionlearn, which has grown to help over a quarter of a million workers into learning every year - a track record of success that continues to attract the support of hundreds of employers and public funding from the government.
As Deputy General Secretary since 2003, Frances led on winning the 2012 Principles of Co-operation Agreement with the Olympic Authorities, guaranteeing on-site minimum standards for local jobs, health and safety and the London living wage. Frances has also led on industrial policy arguing the case for a strategic approach to rebalancing the economy in the wake of the financial crash.
In January 2013 Frances became the General Secretary of the TUC, the first woman ever to hold this post.
Neale Coleman
Neale Coleman is the Mayor's Advisor for Olympic and Paralympic Legacy and was formerly the Mayor's Advisor on London 2012, a post he held since the first days of London's bid in 2003. Neale was a board member of London2012, the Olympic Bid company and has been a board member of the Olympic Delivery Authority from its inception.
He has extensive experience in major regeneration projects, chaired the Olympic Masterplan Reference Group that led the work during the bid to deliver the Masterplan and planning consent for the Olympic Park and co-chaired the Olympic Delivery Group which oversaw all work on the Games immediately after the successful bid.
Anthony J. Venables CBE, FBA
Tony Venables is Professor of Economics at Oxford University where he also directs the Oxford Centre for the Analysis of Resource Rich Economies. He is a Fellow of the Econometric Society and of the British Academy.
Former positions include chief economist at the UK Department for International Development, professor at the London School of Economics, research manager of the trade group in the World Bank, and advisor to the UK Treasury.
He has published extensively in the areas of international trade and spatial economics, including work on trade and imperfect competition, economic integration, multinational firms, economic geography, and transport economics.
Publications include The spatial economy; cities, regions and international trade, with M. Fujita and P. Krugman (MIT press, 1999), and Multinationals in the World Economy with G. Barba Navaretti (Princeton 2004).
Alison Nimmo CBE
Alison was appointed Chief Executive of the Crown Estate in January 2012. She was previously Director of Design and Regeneration at the Olympic Delivery Authority. Alison has made a huge contribution to the success of London 2012 for delivering the overall design and early delivery of many of the venues, the multi-award winning Olympic Park and the sustainable legacy for the Games. She's commercially astute with a strong track record of delivery, working in the public and private sectors.
Her previous roles have included: a central role in the London 2012 bid team and interim director who led the establishment of the Olympic Delivery Authority; Chief Executive of Sheffield One, a seminal city centre regeneration programme for Sheffield; and Project Director of Manchester Millennium Ltd, responsible for the regeneration of Manchester city centre following the terrorist bombing in 1996.
She is a chartered surveyor and town planner by training and was awarded a CBE for services to urban regeneration in 2004. She is also a non-executive director of the Berkeley Group and a visiting Professor at Sheffield Hallam University.
Dr Pete Waterman OBE, DL
Pete Waterman is the most successful British producer-songwriter in pop history, an author, DJ, Pop Idol judge and television presenter and a lifelong entrepreneur with a wide range of business interests. A senior statesman of the music industry with over forty years' experience, Pete has sold in excess of 500 million records around the world, establishing PWL, his own world-famous production company and record label, in the mid-80s.
Beyond music, Pete has a lifelong passion for the railways. His first job was as a fireman (stoker) on British Railways and today he is the proud owner of significant collections of commercial and historic locomotives (at one time including the legendary 'Flying Scotsman') and rolling stock, the largest O-gauge model railway in Europe and Just Like The Real Thing, his own model railway company.
Since founding the London and North Western Railway (LNWR) in 1993, Pete has continued to contribute massively to the preservation and development of this historic and essential industry, even leading the successful campaign for a National Skills Academy for Railway Engineering.
In 2001, Pete was made an Honorary Doctor of Business Administration by Coventry University for his services to the pop industry and, in 2004, an Honorary Doctor in Music by the University of Liverpool. In 2005, Pete was awarded the OBE for his services to music in the Queen's New Year's Honours List and most recently was appointed Deputy Lieutenant of the County of Cheshire.
Councillor Julie Dore
Councillor Julie Dore was elected as Leader of Sheffield City Council in 2011.
She has represented the Arbourthorne Ward in the city since 2000 and was elected as Leader of the Labour Group of councillors in 2010.
Her many roles include Chairing the Council's Cabinet, Sheffield Executive Board, Sheffield City Region Local Enterprise Partnership Board, Sheffield Business Advisory Panel, Joint Chair of the Health and Wellbeing Board, member of the Core Cities Group and member of the South Yorkshire Leaders Group.
Councillor Dore previously worked for a social housing association for over 20 years and prior to that in the construction industry for 10 years. She has lived and worked in Sheffield all her life.
Cllr Matthew Colledge
Matthew Colledge, a Trafford resident for almost all of his life, graduated from Business Management in Bristol and returned to Trafford to set up and run his own construction business working for a number of blue chip clients including United Utilities. In 2004 he was elected on to Trafford Council as a Conservative Councillor, and currently represents Altrincham Ward.
In 2009, aged 35, he became Leader of Trafford Council, having served as Deputy Leader for 3 years, and in doing so became the youngest leader in Trafford's history. Matthew has also occupied the post of Chairman of the Greater Manchester Passenger Transport Authority, now known as TfGM, the body responsible for providing public transport for the whole of Greater Manchester, leading the Authority at a particularly contentious time when Greater Manchester was debating the proposed congestion charging scheme.
On a Greater Manchester platform Matthew is Vice Chairman of the Greater Manchester Combined Authority and is also the Vice Chairman of the Association of Greater Manchester Authorities (AGMA). He is also a member of the Greater Manchester Local Enterprise Partnership – a body that works on developing Greater Manchester's economic power base and prosperity. Matthew represents Trafford on the Local Government Association and chairs a number of local committees aimed at strengthening and developing Trafford as a borough.
Lorraine Baldry
Lorraine has over 40 years experience in a wide range of industries including Technology, Broadcasting, Distribution, Real Estate and Financial Services.
Lorraine is Chairman of London and Continental Railways, Inventa Partners Ltd and Tri-Air Developments Ltd. She is the Senior Independent Director of Circle Holdings plc, a board member of the Olympic Delivery Authority and a Governor at the University of the Arts London.
Lorraine was Chief Executive of Chesterton International plc and prior to that held various senior positions at Prudential Corporation, Morgan Stanley and Regus. She is a former Chairman of London Thames Gateway Development Corporation and Central London Partnership and non-executive director of St Ives plc.
Lorraine is an Honorary Member of the Royal Institution of Chartered Surveyors and a Past President of the British Property Federation. She was awarded OBE in the Queen's Jubilee Honours.
HS2 and major projects media enquiries
Press enquiries 020 7944 3021
Out of hours 020 7944 4292
Switchboard 0300 330 3000
Published 31 July 2013