HRH the Duke of York visits UK effort in Helmand
His Royal Highness the Duke of York has visited the Helmand Provincial Reconstruction Team in Lashkar Gah as part of a visit to southern Afghanistan.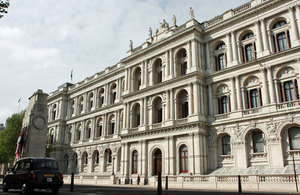 During the visit, the Duke of York heard about the Team's work, alongside British military effort, to support security and stability in the Province.
Speaking about the visit, Mr Leo Tomlin, acting Deputy of Head of Mission at the Provincial Reconstruction Team said:
"I know colleagues were delighted that the Duke of York was able to visit and hear about our work. The work being undertaken by civilians here, often in quite difficult conditions, continues to play a critical part in putting Helmand, and wider Afghanistan, on a secure and stable footing. The Duke was pleased to see the visible signs of steady progress across all areas of security, governance and development from when he visited last year."
The British led Helmand Provincial Reconstruction Team (PRT) is supporting the Afghan government deliver governance and security across the province. The PRT includes US, Danish and Estonian personnel as part of a multinational effort.
While in Lashkar Gah, the Prince met with the 2nd Battalion the Royal Regiment of Scotland and military personnel working at the Taskforce Force Helmand military headquarters. The Duke, a former Royal Navy helicopter pilot, travelled on to Camp Bastion where he met with members of the Royal Irish Regiment.
There are almost 8,000 British troops serving in Afghanistan, most of them in the Helmand province in the south of the country.
Published 20 December 2010