World news story
How to stay safe in Japan
The British Embassy Tokyo gave a presentation at Waseda University in Tokyo on 22nd March to international students who had just arrived in Japan.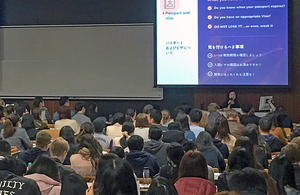 The presentation covered different types of assistance that the Embassy deals with, including arrests, hospitalisations, travellers with mental health illnesses and issuing emergency travel documents when a passport is lost or stolen; these are all incidents that university students may need support with while they are abroad. It also emphasised how it is essential to get insurance before going on holiday and explained that most Asian countries need 6 months passport validity for entry so the importance of checking requirements before travel.
Rie Shibata and Chika Sawada, both Waseda University graduates who now work in the Consular Section of the Embassy, said:
It was a great opportunity to speak to students who have come to spend time studying and learning more about Japan. Most travellers have a trouble free time but it is always helpful to know what assistance is available if needed. We look forward to working with Waseda University more in the future to raise awareness among international students.
Related information
Published 3 April 2018