How can you 'Love Your River'?
The Love Your River campaign hopes to get everyone involved in protecting their local river.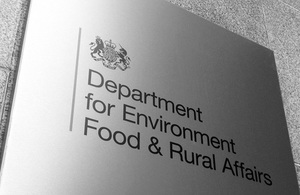 Double Olympic gold medal-winning rower and Love Your River advisor, James Cracknell has called on the public to play a part in looking after their local river today.
This call comes as Waterwise launch 365 water saving tips, one for everyday of the year which everyone can get involved in.
Over the coming months Waterwise will be encouraging people to choose their favourite tips with the most popular becoming the Top Ten Water Saving Tips that will be used nationally to promote water efficiency.
This activity all forms part of Defra's Love Your River initiative which is working in partnership with James Cracknell, the Environment Agency, key environmental organisations and water companies to encourage people to value their local river and make the connection between the water in our rivers and the water we use at home.
Community groups across England already play an important role in caring for our local rivers. From the River Chess chalk stream in Buckinghamshire to the Lyme Brook River in Stoke on Trent, community groups are involved caring for their river and local wildlife. The Love Your River campaign hopes to take it one step further and get everyone involved in protecting their local river.
James Cracknell Love Your River advisor said:
"I have a great passion for rivers. They've always been part of my life and career. Being on and around water is hugely relaxing and great for health and wellbeing.
"In the UK we rely on rivers for much of the water we use, so it's in all our interest to protect and cherish our waterways. Most people won't miss their local river until it's gone.
"But it's not just about cleaning a river at its source, it's also the decisions we make as individuals in how we use water at home. Even small actions like taking shorter showers or using water butts can make a big difference."
Water Minister Richard Benyon said:
"Water is not the never-ending commodity that some people see it as and we need to start thinking about using water wisely to protect our local rivers.
"I strongly encourage people to have their say and let Waterwise know what they think are the most practical and best ways to save water and keep our waterways clean."
Love Your River is not just about educating people about the difficulties that many rivers face. It is also recognises the great work local groups already do to look after their rivers - honouring the community spirit and the inspirational individuals who give up their time and energy to improve their local environment.
For more information on the 365 water saving tips and choosing the top ten water efficiency tips visit www.waterwise.org.uk
Published 26 March 2013