Press release
Housebuilding continues to climb
Housing Minister Brandon Lewis welcomed new figures showing a rise in the numbers of homes being built across the country.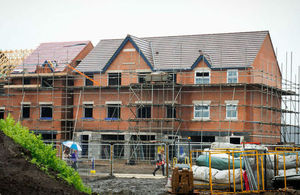 The latest housebuilding figures show starts on new homes in 2014 totalled 137,010 – 10% higher than in 2013 and at their highest annual total since 2007.
And in London, starts in 2013 to 2014 were the highest since 2005 to 2006.
Overall 700,000 new homes have been delivered since the end of 2009 – and over 200,000 of which have been since the launch of the Help to Buy scheme.
Housing Minister Brandon Lewis said:
We inherited a broken housing market in which builders couldn't build, lenders wouldn't lend and buyers couldn't buy. We've done a lot to help get the housing industry back on its legs, but there's more to do.

Today's figures show we're on track and turning this around. Now, housebuilding levels are at their highest annual total since 2007, and first-time buyers are getting on the property ladder in record numbers.

This is thanks to our long-term economic plan and efforts to tackle the deficit we inherited, which are keeping interest rates at their record low and mean now is the best time on record to take out a mortgage.
Getting the country building again
The 2008 economic crash devastated the housebuilding industry, bringing building levels to their lowest since the 1920s and leading to the loss of a quarter of a million jobs.
The government has prioritised limited financial resources to housebuilding as a key part of its long-term economic plan.
This includes:
Helping people onto the housing ladder
Over 77,000 households have become homeowners with a fraction of the deposit they would normally require thanks to the Help to Buy scheme, with developers building more as a direct result.
Reforming the planning system
Putting power back in the hands of local people to have a say over the future development of their area, meaning support for local housebuilding has increased dramatically over the past 6 years, and permission was granted on 240,000 homes in the year to October.
Building more affordable homes
Nearly 217,000 affordable homes have been delivered since 2010; £19.5 billion public and private funding has already been invested in affordable housebuilding, with plans for a further £38 billion which will help ensure a further 275,000 new affordable homes are provided between 2015 and 2020. This means over the next Parliament we will build more new affordable homes than during any equivalent period in the last 20 years.
Making it easier to convert empty buildings
Introducing permitted development rights to allow office space to be converted into new homes without the need for planning permission from the local authority.
Investing to bring empty homes back into use
Meaning the numbers of empty homes are at a 10-year low.
Mr Lewis also pointed to efforts to tackle the record deficit the government inherited, keeping interest rates low and mortgages more affordable.
It means the numbers of first-time buyers are at a 7 year high, with the Mortgage Advice Bureau recently reporting now as the best time on record to take out a mortgage.
Homes built across the country
Today's figures show that house building starts are increasing across the country. For example:
Croydon, where starts increased by 251% from 593 in 2013 to 2084 last year
Cornwall, where starts increased by 58% from 2,465 in 2013 to 3,892 last year
Leeds, where starts increased by 84% from 1,349 in 2013 to 2,480 last year
Bradford, where starts increased by 171% from 523 in 2013 to 1,417 last year
Selby, where starts increased by 296% from 279 in 2013 to 1,106 last year
Office address and general enquiries
2 Marsham Street
London
SW1P 4DF
Contact form http://forms.communiti...
General enquiries: please use this number if you are a member of the public 030 3444 0000
Published 19 February 2015