Hounding the bad guys – Border Force detector dogs
Border Force detector dogs literally have a nose for trouble and can sniff out a range of goods to keep the UK safe from drugs, firearms and smuggled people.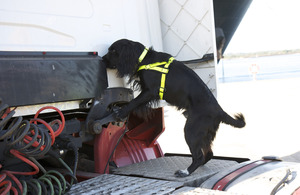 Border Force uses hi-tech equipment and methods to stop smuggled goods entering the UK but man's best friend remains top dog when it comes to quickly spotting suspicious freight, packages, vehicles or passenger luggage.
Steve Elms, head of Border Force detector dogs, said:
The dogs are a vital asset in securing the UK border from smugglers and illegal immigrants.

We use detector dogs wherever people or goods enter or leave the UK. Their acute sense of smell and hunting instincts makes them an essential tool in our efforts to combat and deter smugglers and those seeking to avoid border controls.
Watch Megan the drug detector dog at work at Gatwick Airport
Top dog finds
Detector dogs have made some major finds during their work at sea ports, airports, international rails stations and postal depots around the UK. Already in 2013 the dogs have stopped various items and people being smuggled into the UK.
A cash detector dog in Southampton found £26,000 hidden in the back seat of a car. While 10 would be illegal immigrants were stopped from entering the UK when a sniffer dog found them hiding in a lorry load of cat meat. One of our most successful dogs to date was Badger who found more than 264 kilos of cocaine worth more than £13 million before retiring in 2008.
Although much of their working life is spent in the same location, they can be deployed anywhere in the UK and can also support other law enforcement operations such as HM Revenue & Customs to detect illegal tobacco storage units and the Serious Organised Crime Agency.
Detector dogs began working at the border in 1978 when they were initially used just to detect drugs. Today, Border Force has 74 highly-trained dogs based around the UK trained to search for a variety of items such as drugs, products of animal origin, firearms, tobacco, cash and smuggled people.
World beaters
These years of experience has led to the dog teams receiving international recognition.
Steve Elms explained:
We are committed to being a world leader in the training and management of detector dogs. This has resulted in our national program becoming globally recognised as a leader in producing and maintaining high-quality detector dog teams – this has led to us assisting other countries in the training of detector dogs.
A dog's life
The dogs usually work an eight or ten hour shift searching vehicles, passengers and freight but as their work is based on play they are always keen and eager to join the officers at the border.
At the end of a hard day's work the dogs get to relax with their canine colleagues, and exercised for two hours each day by their handlers and kennel assistants.
Teaching dogs new tricks
Gun dog breeds, such as English Springer Spaniels, Cocker Spaniels, Labradors and Beagles, are ideal for detection work as they have a natural instinct to hunt and retrieve.
The dogs come from a host of breeders as well as Battersea Dogs Home and are selected for training aged between 12 and 24 months. At this early age they are trained to play and search for a tennis ball, which gradually has a scent, like tobacco or drugs introduced.
After they make the grade the dogs have a further five weeks training 'on the job' at the port or airport where they will be based.
Then they will be set to join a trained dog handler to sniff out a mix of these goods:
Class A Drugs: Cocaine, Heroin, Amphetamines
Tobacco: Cigarettes, Hand-Rolling Tobacco
Cash: Sterling, Euros, Dollars
Product of Animal Origin (POAO): Meat, Fish, Honey, Dairy Products
Firearms
People
Published 7 June 2013