Horn of Africa: Targeted aid to help prevent food crises
Britain pledged to target aid that will help prevent future food disasters in the Horn of Africa today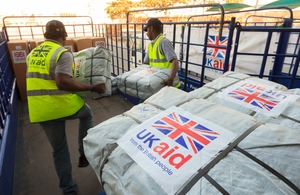 Britain pledged to target aid that will help prevent future food disasters in the Horn of Africa - a year on from the crisis that cost countless lives.
The new Development Secretary Justine Greening made the pledge today during a visit to the drought-hit area of Turkana province in Northern Kenya.
It comes as Ms Greening set out new UK aid to treat thousands more children and women who continue to suffer from malnutrition across the arid region.
Video: BBC World report - Kenya's poor get British aid via a smart card
?Through the aid announced by the Development Secretary today, Britain will:
help treat a further 65,000 acutely malnourished children in Kenya every year for the next three years
provide care to prevent malnutrition for 400,000 women and children and
strengthen the resilience of the local health systems to prevent, prepare and respond quickly to future nutrition emergencies.? ??
During her first ministerial visit to Africa, Ms Greening is travelling to Loiturerei village in Turkana province to meet some of the 69,000 of the poorest families who receive regular payments to increase their ability to cope with droughts, invest in their education and prevent them from falling into destitution.
Gallery: **Fighting future food disasters in Turkana, Kenya**
Get the flash player here: http://www.adobe.com/flashplayer
At the height of the drought last year, more than one in three children in parts of Turkana province were malnourished. Emergency aid from Britain helped to reduce this, but many are still at risk.
---
Video: **How UK aid helped fight hunger in Turkana during the food crisis**
International Development Secretary Justine Greening said:?
Britain played a leading role in the international response to last year's drought, giving a lifeline to millions of families.

?"It is better all round if we act now to prevent disasters, rather than just responding to them. Investing now will not only alleviate suffering but also ensure the poorest get the health care, education and opportunities they need to pull themselves out of poverty.

?"The Prime Minister quite rightly challenged the world to act faster on hunger and malnutrition at this year's Global Hunger summit.
Ms Greening is also visiting a local health post and district hospital where children under age five were screened and treated for acute malnutrition. Supported by Britain and run by the Government of Kenya, UNICEF and medical charity Merlin, the specialist nutrition unit in the hospital provides in-patient care for children.
Britain led the response to drought across the Horn of Africa last year, feeding three and half million people in Kenya, Ethiopia and Somalia while providing health services, vaccinations and clean water for hundreds of thousands more.
In Northern Kenya, British aid reached over 500,000 children and women with special food rations during the crisis. But too many still face an uncertain future.
Published 2 October 2012