Homelessness experts back 'Before You Go' information campaign
New campaign to educate people coming to the UK about the dangers of ending up sleeping rough on the streets.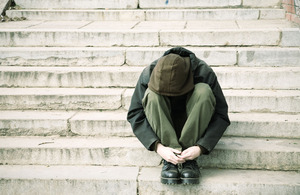 Housing Minister Grant Shapps today (23 February 2012) backed a new pilot to tackle the increase of people from Central and Eastern Europe becoming homeless on England's streets.
The 'Before You Go' campaign, run by The Passage in partnership with Thames Reach and Homeless Link, will aim to reach people in their home countries before they leave for British shores and make them aware of the dangers of coming to the UK without appropriate support in place before.
Chief Executive at The Passage Mick Clarke said:
"At the Passage our street outreach team is out on the streets 7 nights a week, every night of the year, to help people have a way off those streets and out of homelessness. We are also determined to do all we can to prevent people ending up on the streets in the first instance, and this includes economic migrants who can be exploited and put at risk because they have not been able to prepare properly before leaving home. Having a job secured, with secure accommodation in place, and ensuring that your travel arrangements are organised by a reputable company can be the difference between successful migration and ending up sleeping on the streets.
"The Passage is therefore proud to be leading on the Before You Go pilot that will help people considering travelling to the UK for employment to make an informed choice and not end up on the streets, destitute and at risk."
Audrey Mitchell, Director of Street and Hostel Services at Thames Reach said:
"Thames Reach welcomes the minister's announcement about resources to help rough sleepers. As an organisation engaging with vulnerable non UK nationals on the streets every day we see firsthand the danger and hopelessness they suffer through being ill-prepared for living and working here. Working closely with support agencies and the media in many EU countries, as well as embassies here, we are constantly highlighting the need for being prepared and informed about working in London before coming over. Through our London Reconnections service we have supported over 1,500 rough sleepers to return to their homes in the EU where they can access support and be reunited with families."
The Combined Homelessness and Information Network, run by Broadway, estimates that in London alone there has been a 20% increase in rough sleepers from Central and Eastern Europe in the last 2 years.
Howard Sinclair from Broadway said:
"At our day centre in Hammersmith we see a great many people from all over the world. Often they have come here because they want a better life but things haven't worked out. What we know is that people are better off being assisted to return to friends, family and areas they know than isolated, vulnerable and sleeping on the streets of London."
Published 23 February 2012