Home Secretary thanks police for their role in keeping Olympics safe
Theresa May has visited the Olympic Park to thank police officers who have worked to make London 2012 a success.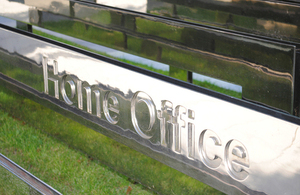 The Home Secretary was accompanied by Locog chairman Lord Coe and Metropolitan Police Assistant Commissioner Chris Allison.
She toured the venue, including the Park Operations Centre, the hub of the security operation, from where every inch of the Olympic Park is monitored on banks of screens.
A memorable games
She then met police officers from a number of different forces and thanked them for the vital role they have played in making London 2012 a safe, secure and memorable Olympic Games.
The Home Secretary said: 'This has been the biggest ever peacetime policing operation and the police have done a fantastic job. There's been huge positive feedback from the public.'
Best of British
On Friday 10 August Policing Minister Nick Herbert visited a briefing centre at Battersea Power Station to thank officers for their hard work. He said: 'The Olympic Games is showcasing the best of British - and that includes the police service.'
Published 11 August 2012