News story
Home Secretary: Police and Crime Commissioners are here to stay
Theresa May discusses the achievements of PCCs and how their role could develop in the future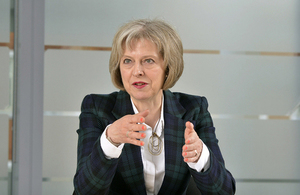 Home Secretary Theresa May today spelled out the achievements of "the pioneering first generation" of Police and Crime Commissioners and discussed how the role could develop in the future.
The Home Secretary told an audience of police leaders how PCCs have used their personal mandate to drive positive change not just in policing and crime, but also in criminal justice, mental health and the wider emergency services, promoting collaboration and joint working.
She also spoke of how the relationship between directly-elected PCCs and chief constables has by and large been one of "healthy tension and respect for one another's positions" despite critics' predictions that they would frequently clash.
And she confirmed PCCs "are here to stay", saying she looks forward to seeing what the next generation of PCCs will do.
Engaged
The Home Secretary also highlighted examples of how PCCs have engaged with the public, commissioned reviews in specific areas of concern to local people, worked to protect vulnerable people and delivered value for money for taxpayers.
They include:
In Sussex, pioneering web-casts and public accountability meetings have involved the public in the practice of holding the chief constable to account.
In Devon and Cornwall, a review of call handling was commissioned following complaints about the service from the public.
In Greater Manchester, the decision to commission the Coffey Report into child abuse demonstrated firm action on this difficult and sensitive issue.
In Northumbria, a range of initiatives has been introduced to tackle violence against women and girls, including encouraging door staff to adopt a duty of care towards all those in the night-time economy and partnering outreach workers with police officers on domestic violence call-outs.
In Dyfed-Powys, the police precept element of council tax has been frozen year on year to keep taxes down.
Home Secretary Theresa May said:
The range of initiatives is broad, the ideas fresh and innovative, and the benefits to the police and the public tremendous.

In sum, PCCs are doing things that police authorities could never have imagined, and could never have hoped to achieve.
The Home Secretary spoke about how the Government is committed to helping PCCs tackle ongoing challenges after the elections in May.
This includes legislation to allow chief constables to use specialist volunteers in the fight against complex fraud and cyber crime; the overall protection of police force budgets over the Parliament; and measures to enable PCCs to take on responsibilities for fire and rescue services locally where a case is made.
Expanded
She also talked about how she would like to see the PCC role expanded further still.
Home Secretary Theresa May said:
Together with the Justice Secretary, Michael Gove, I have been exploring what role PCCs could play in the wider criminal justice system. This is something that I have long believed in and which a number of PCCs have shown interest in. As they say, there is a reason that we included the words 'and crime' in PCCs' titles.

So after the May elections, the Government will set out further proposals for Police and Crime Commissioners. Because as a number of PCCs have argued, youth justice, probation and court services can have a significant impact on crime in their areas and there are real efficiencies to be had from better integration and information sharing.

We are yet to decide the full extent of these proposals and the form they will take, but I am clear that there is a significant opportunity here for PCCs to lead the same type of reform they have delivered in emergency services in the wider criminal justice system.

And there are other opportunities too. I believe the next set of PCCs should bring together the two great reforms of the last Parliament – police reform and school reform – to work with and possibly set up alternative provision free schools to support troubled children and prevent them falling into a life of crime.
Published 4 February 2016