News story
Home Secretary launches new Border Force cutter to protect UK coastline
HMC Protector - the latest addition to Border Force's fleet of cutters - officially launched.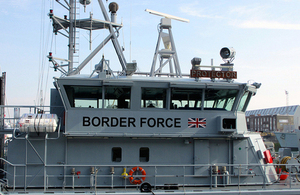 HMC Protector is 1 of 5 cutters operated by Border Force to protect UK waters and coastline. They operate 24 hours a day, all year round, responding to intelligence-led information or patrolling high-risk areas. Their primary function is to intercept drug shipments and other restricted or prohibited goods being trafficked by sea.
Protector, which replaces HMC Sentinel following decommissioning in 2013, will be located in Portsmouth and operates around the UK coastline. Having successfully completed sea trials in the autumn she now joins her 4 sister cutters Seeker, Searcher, Vigilant and Valiant.
Home Secretary Theresa May launched the cutter at a ceremony at HMS President in London today (Monday 17 March). She said:
I am delighted to be here today to name HMC Protector as the latest addition to Border Force's fleet.

We are an island and sea-faring nation and HM cutters have a proud history of patrolling and protecting our shores that stretches back hundreds of years.

Today's vessels include sophisticated surveillance and navigation equipment to locate potential threats at sea. But it is the professionalism and commitment of the crew, who patrol all year round and in all weathers, that is our strongest weapon against organised traffickers.
Border Force Director General Sir Charles Montgomery said:
I am very proud to welcome HMC Protector and our Border Force crew to HMS President today.

Border Force's priority is the security of the border and our fleet of cutters play a key role in intercepting and deterring shipments of drugs and other prohibited goods, as well as people that criminal gangs attempt to traffic into the UK.
HMC Protector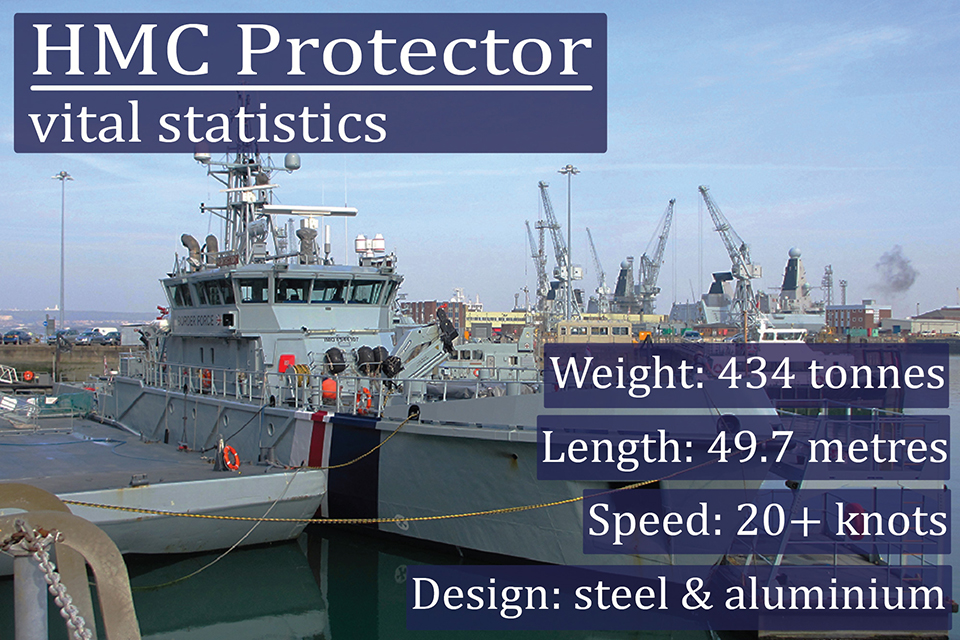 Last year Border Force officers boarded over 2,000 vessels arriving in UK waters which ranged from fishing boats to larger commercial and freight-carrying ships.
Some of the largest seizures over recent years include:
2013 – 120kg of cocaine worth £20 million was found on a yacht off the Isles of Scilly
2011 – 1.2 tonnes of cannabis worth £10 million was discovered on a yacht off the Isle of Wight
2010 –300kg of cocaine worth £50 million pounds was found off the Isle of Wight disguised as lobster pots
Published 17 March 2014