News story
Home Secretary holds interfaith talks in east London
Home Secretary Theresa May attended discussions with representatives from Barking's Muslim, Jewish and Sikh communities yesterday.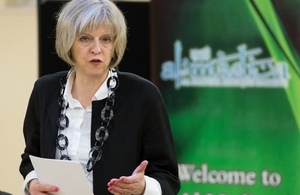 During a visit to the Al Madina Mosque, she told the group of faith leaders, police officers and local councillors that the government is working hard to protect the safety and security of people of all faiths and backgrounds, and confront the extremists who seek to create division between communities.
She listened as they expressed their fears and concerns in the wake of the events in Paris last month and reassured them that protective security measures at certain sites – such as mosques and synagogues – have been stepped up, including increased police patrols.
She also met students who attend the mosque's madrassa and teenagers involved in the innovative Young Leaders' Programme at the Active Change Foundation in nearby Waltham Forest, which encourages young people to become role models in their community.
Following the visit, the Home Secretary said:
I know from recent meetings with Muslim leaders and those of other faiths that the horrific terrorist attacks in Paris left many people feeling vulnerable and fearful. I am grateful to the Al Madina Mosque for hosting this interfaith event, which provided an excellent opportunity to listen to the views of local people.

In Paris we saw the callous disregard terrorists have for people of all backgrounds and faiths – not only in the horrific attack on a French magazine, but the appalling murders of French Muslim policeman Ahmed Merabet and innocent people at a Jewish supermarket. In this country I know people are concerned about anti-Muslim prejudice, anti-Semitism and other forms of racial and religious hatred we have seen in recent years, and we know there are extremist groups who seek to exploit events and create division.
My primary duty as Home Secretary is to ensure the safety and security of everyone in the UK, people who come from all backgrounds. I am committed to dealing with extremism in all its forms.
Between May 2013 and February 2014, Tell MAMA recorded 734 anti-Muslim incidents, including 36 cases of violence. In 2014 the Community Security Trust recorded 1,168 anti-Semitic incidents, of which 81 were violent assaults. And in 2014 there were 27 arrests of individuals associated with far right groups.
The government and police are doing all they can to eradicate hate crime, give victims the confidence to come forward to report incidents and, wherever possible, prosecute those responsible.
The Home Secretary added:
Our response to terrorism and extremism must be to become ever more united. We must work together to protect our country, to defeat extremism and uphold the values that underpin the British way of life. The values that allow us to live in peace – freedom, respect for others, democracy and the rule of law – values which will allow the future generation of this country to prosper, and live safely.
Published 13 February 2015