News story
Home Secretary extends consultation into use of stop and search.
Members of the public given an extra six weeks to have their say on stop and search after consultation extended to 24 September.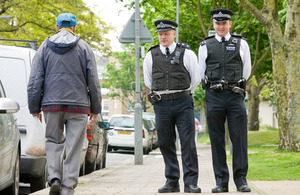 Consultation into police use of stop and search was today (Tuesday 30 July) extended by the Home Secretary.
It gives members of the public an extra six weeks to have their say on the effectiveness of this power, which is especially important in relation to combating gangs, knife crime and drug offences.
The government has so far had an extremely positive response to the consultation, which will now last until September 24.
People who want to have their say on stop and search can also take part in a shorter online poll as an alternative to completing the full consultation document.
Home Secretary Theresa May said:
The government supports the ability of police officers to stop and search suspects, but it must be applied fairly and in a way which builds community confidence.

There has been a strong initial response to our consultation, but campaigners have said there are many more people who want to take part and need more time to voice their opinions.

We particularly want to ensure young people have their say, so extending the deadline beyond the summer holidays will give schools and colleges the chance to get involved.
The Home Secretary announced the launch of consultation earlier this month.
Appropriately and fairly
The government wants to know whether stop and search is being used appropriately and fairly, and how it can be better targeted and more intelligence-led.
In the last year in London alone, stop and searches resulted in 45,000 criminals being arrested, including more than 3,000 who were carrying weapons and guns and more than 7,000 in possession of suspected stolen goods.
But when the power is overused or when people are targeted when they do not need to be, it is a waste of police time and erodes community confidence in the police.
The Home Secretary has said she wants to see stop and search used only when it is needed and better search-to-arrest ratios, as well as improved community engagement and more efficient recording practices across the country.
The results of the consultation will shape future work with HMIC, the College of Policing, police forces and Police and Crime Commissioners to ensure stop and search works fairly and in the interests of all members of the public.
The government intends to respond to the results of the consultation by the end of the year.
Published 30 July 2013
Last updated 30 July 2013
+ show all updates
Tweaked summary to include date of consultation closure
First published.