Press release
Home Secretary awards £7.5million for new national police welfare service
The new service will complement the support already delivered at force level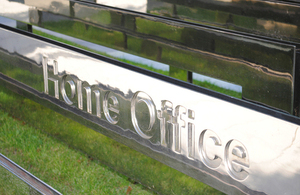 Home Secretary Amber Rudd has today awarded £7.5 million of funding for a national police welfare service. Writing on the Police Oracle website, the Home Secretary said that the professionalism of the police during a period of four terrorist incidents in as many months had been "truly humbling". She also highlighted the "massive impact" the police have had on crime and keeping the country safe. Crime traditionally measured by the Crime Survey for England and Wales is down by a third since 2010.
Home Secretary Amber Rudd said:
I've seen first-hand the commitment shown by you, our police officers. I am very aware that your uniquely challenging work can easily place stressful demands on you. The things you see, the dreadful stories you hear, the frightening situations in which you can find yourself must, in some cases, have an impact on someone's personal well-being and their mental health.

It's only right that policing does all it can to provide high quality support for officers and staff.

So today, I am awarding £7.5 million from the police transformation fund over three years to pilot and - if it is successful - fund a dedicated national service to help provide enhanced welfare support, which if you need it, you can rely on.
The new service will complement the support already delivered at force level to serving police officers and staff, covering mental health advice and welfare support. To help identify where additional support and coordination is needed, the college will begin an immediate exercise to finalise the details of the national police welfare service.
Plans will be developed over the coming months by the College of Policing, working very closely with Police Federation. The service will initially be tested in a pilot and, subject to its success, will be rolled out across the country between 2018 and 2020. The college's work to deliver a national police welfare service will complement their existing work on staff welfare, which includes guidance on officer and staff safety and support in high stress environments.
Last financial year, the police transformation fund awarded £74 million police-led projects including bids commissioned by the police reform and transformation board. This included funding to tackle modern slavery and expand the graduate recruitment scheme, Police Now.
Set up as part of the spending review in 2015, the fund, which is police-led through the police reform and transformation board, is designed to allocate extra investment to continue the job of reform and shape policing for the future. Police and Crime Commissioners and chief constable representatives sit on the board alongside senior leaders in policing, with the final decisions on bids made by the Home Secretary.
Published 12 July 2017