News story
Home Secretary announces new Inspector of Constabulary
Chief Constable Mike Cunningham has been appointed as Her Majesty's Inspector of Constabulary.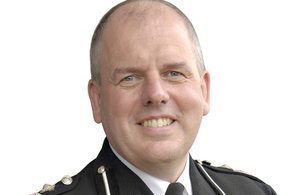 Mr Cunningham, who is currently Chief Constable of Staffordshire Police, was selected following a rigorous recruitment process which included approval by the Prime Minister and the Queen.
He will succeed Roger Baker, who has been HM Inspector of Constabulary since September 2009, and will be one of four people to hold the post.
Home Secretary Theresa May said:
I am delighted to confirm Mike Cunningham as Her Majesty's Inspector of Constabulary.
Mike brings a wealth of expertise and experience from his career in the police that will be invaluable in his new role and I look forward to working with him in the future.
Mr Cunningham spent the earlier part of his career at Lancashire Constabulary, which he joined in 1987, culminating in his appointment as Deputy Chief Constable in 2007. Before joining the police he was a teacher for two years. He was appointed as Chief Constable of Staffordshire Police in September 2009.
Mike Cunningham said:
I am honoured to have been appointed as Her Majesty's Inspector of Constabulary. I am looking forward to a new challenging and exciting role.

I leave Staffordshire Police very proud of the men and women who keep people safe and reassured and I thank them for their outstanding work.
I look to use the privileges and experiences I have enjoyed as a police officer to assist me in my future work.
HM Chief Inspector of Constabulary Thomas Winsor said:
I look forward to Mike joining the Inspectorate as one of Her Majesty's Inspectors of Constabulary, and to working with him. He joins at an exciting and demanding time, as HMIC undergoes a significant expansion of its workload as we design and carry out our programme of annual all-force inspections on police efficiency and effectiveness.

I also pay the warmest tribute to Roger Baker for his five years' service as HMI for the Northern Region. His work has been of immense value to policing and the public. Their and our debt to him is a large one, and upon his departure from HMIC in September, we shall thank him and wish him the greatest professional and personal satisfaction in his future work.
The recruitment process followed normal arrangements for senior civil service posts, with an interview panel comprising a senior civil servant, HM Chief Inspector of Constabulary and an independent assessor.
Published 25 July 2014