News story
Home Secretary accepts resignation of Fiona Woolf from inquiry
The Home Secretary today accepted the resignation of Fiona Woolf from the position of Chair of the Independent Panel Inquiry into Child Sexual Abuse.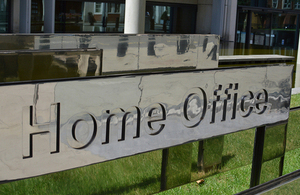 Home Secretary Theresa May said:
It is with regret that I accepted Fiona Woolf's resignation today. I believe she would have carried out her duties with integrity, impartiality and to the highest standard.

I decided to set up this inquiry because it's imperative that we establish the extent to which institutions in this country have taken seriously their duty of care towards children. Recent reports from Rotherham and Greater Manchester demonstrate the importance of this work.

As with Hillsborough, the best way to do this is through an independent panel inquiry. I believe we have a panel which brings a wide range of experience and expertise and one that survivors can have confidence in.

The panel will continue with its work while we appoint a new chairman. I will be making a statement to Parliament on Monday outlining the next steps: I will meet survivors' groups and consult with relevant parliamentarians. I've also agreed with Keith Vaz that the nominated Chairman of the Panel will attend a confirmation hearing before the Home Affairs Select Committee.
Published 31 October 2014