News story
Home Office's £20 million reward for police innovation
Every police force in England and Wales will receive a share of a £20m Home Office fund for projects aimed at transforming policing.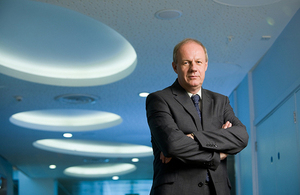 Investment in body-worn cameras, joint working between police and the fire service and using technology to improve efficiency were three of the key themes emerging from the scheme. Successful funding bids were also received for proposals to raise awareness of child exploitation, develop responses to organised crime, work closely with mental health professionals and co-locate services with local councils.
Policing Minister Damian Green said:
This government's approach to policing has been radical and forward thinking. I am hugely encouraged that every single police force has shown the same attitude in taking this opportunity to develop new ideas and ways of working.

We have some exciting projects in this year's round, and I am looking forward to seeing the results. Plus, we have a further £50 million worth of funding which will be made available for innovation projects in 2014/15.

Crime has fallen by more than 10% under this government. By encouraging forces to work together and embrace new technology, we can continue to improve policing and increase efficiency in years to come.
Innovation
The Police Innovation Fund will be established from 2014/15 and will be worth up to £50 million a year.
However, ahead of its full year of operation, the Home Office has made a precursor fund of £20 million available to police and crime commissioners in 2013/14.
Each of the 43 police forces in England and Wales was successful with at least one of the bids they submitted.
Among the most innovative proposals were:
Joint plans by Bedfordshire, Hertfordshire and Cambridge Police to bring together their operational and organisational support services, such as IT. The project will receive nearly £2 million of Home Office funding and is anticipated to save the three forces £23 million in four years.
Northamptonshire Police will receive £620,000 towards its plans to share buildings and services with the county's fire service.
Kent and Essex Police successfully jointly bid for £440,000 towards their Visual Media Evidence and Intelligence Programme, which will use video evidence captured at domestic violence or public order incidents to be analysed using modern software techniques.
A full list of forces and the projects which will benefit from Home Office funding this year has been attached to this story.
Published 16 January 2014