Press release
Home Office tops Stonewall Index 2011
The Home Office is the best place to work for lesbian, gay and bisexual people, Stonewall announced today.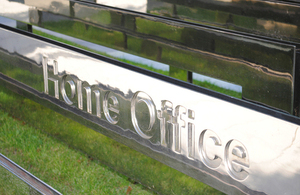 Coming top of the Stonewall Workplace Equality Index 2011 of private, public and third sector is recognition of the Home Office's drive to create an environment in which people feel they could be open about their sexuality.
The award shows that the Home Office excels in ensuring that lesbian, gay and bisexual staff are represented and supported by senior managers and Spectrum, the department's own network group.
In its citation Stonewall said the Home Office 'understands the importance of truly embedding equality and diversity into everything it does'.
Helen Ghosh, the Home Office Permanent Secretary, said: 'It is essential that the Home Office represents and understands the communities we serve. With all the challenges that face us, we have to make sure we retain talented staff and help them perform to their full potential.
'That is why I am so pleased that this department has won this significant award.'
Theresa May, the Home Secretary, said: 'I am delighted the Home Office is being celebrated as an employer which supports the diversity of its staff. This Government will continue to do all it can to tackle discrimination and help make this country a more tolerant and fair place for everybody.'
In outlining why the Home Office had won the award, Stonewall said the department had ensured the Spectrum network had reached Home Office staff across the UK, and applauded campaigns such as 'Here Come the Girls', which address the lack of visible gay and bisexual women in workplaces.
In addition, the Home Office was commended for accepting Stonewall's recommendations in new training for asylum caseworkers on how to deal appropriately and sensitively with the claims of lesbian, gay and bisexual people. The Home Office was also praised for supporting 'Blow the Whistle on Gay Hate' which encourages victims of homophobic hate crime to come forward and report such incidents to the police.
Ravi Chand CBE QPM, Head of Equality and Diversity at the Home Office, said: 'We have worked hard to demonstrate that the Home Office supports all its staff. Everything we do has equality and diversity embedded in it, and it is fantastic news that our commitment to supporting lesbian, gay, bisexual staff has been recognised by Stonewall.
'This is not about being nice to minorities. When there is pressure on us to deliver high quality public services at a challenging time our networks, like Spectrum, play an even more critical role for all our staff.'
Notes to editors
1.  For further information about the Stonewall Workplace Equality Index 2011 go to http://www.stonewall.org.uk/at_work/4763.asp
Ravi Chand was awarded a CBE in the New Year's Honours for 'his commitment to celebrating diversity and enhancing the contributions that people of all walks of life can bring which has led to the Home Office reaching the gold standard against a number of external diversity benchmarks set by groups such as Stonewall'.
3.  A video about the Home Office receiving top place in the Stonewall Workplace Equality Index 2011 is available at http://www.youtube.com/ukhomeoffice.
Published 11 January 2011