News story
Home Office sets out pay award for police officers
Home Secretary Theresa May announces a 1% pay increase for police officers in England and Wales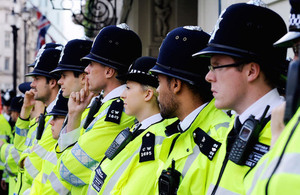 Accepting the main recommendations of both the Police Remunerations Review Body (PRRB) and the Senior Salaries Review Body (SSRB), from 1 September 2015 police officers will receive:
a 1% increase to base pay for all ranks.
a 1% increase to the London Weighting payment.
a 1% increase to the Dog Handlers' Allowance.
This applies to all police officers in England and Wales.
Home Secretary, Theresa May, said:
Police officers play a vital role in this country, fighting crime and keeping us safe, so it is right they are rewarded.

The PRRB and the SSRB brought forward affordable proposals while balancing the need to recruit and retain the very best officers. I am grateful for their work and pleased that we are able to accept their main recommendations.
The increase is in line with the government's policy that public sector pay awards, including the police, should average up to one per cent in 2015-16.
Published 16 July 2015