News story
Home Front legacy project
Armed forces volunteers have been delving deeper into the recently discovered remains of a First World War practice battlefield.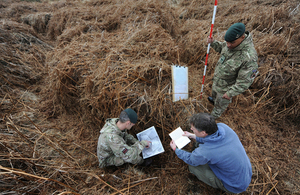 Used for training troops before they were sent to the Front, the practice battlefield is the size of nearly 17 football pitches, and has 2 sets of opposing trench systems with a no-man's land in between.
The overgrown and forgotten century-old site was rediscovered a few months ago when Rob Harper, conservation officer at Gosport Council, spotted what he recognised as trench systems on a 1950s aerial photograph.
The find marks the start of the Home Front Legacy 1914-18 project which English Heritage and the Council for British Archaeology (CBA) are working together on to record the physical remains of the war on home territory.
Helping to kick-start start the launch yesterday (6 March), volunteers from the armed forces teamed up with the CBA to start work to map and record the practice battlefield on heathland in Gosport, Hampshire.
Corporal Mark Short of 42 Engineer Regiment said:
Having the opportunity to see the trenches today it really brings home the gravity of what the soldiers of the First World War had to face. It was fascinating to see a site used for pre-deployment training over 100 years ago and compare it to the training sites today.
And now the public and local communities are being asked to get involved and record remains of the First World War in their area.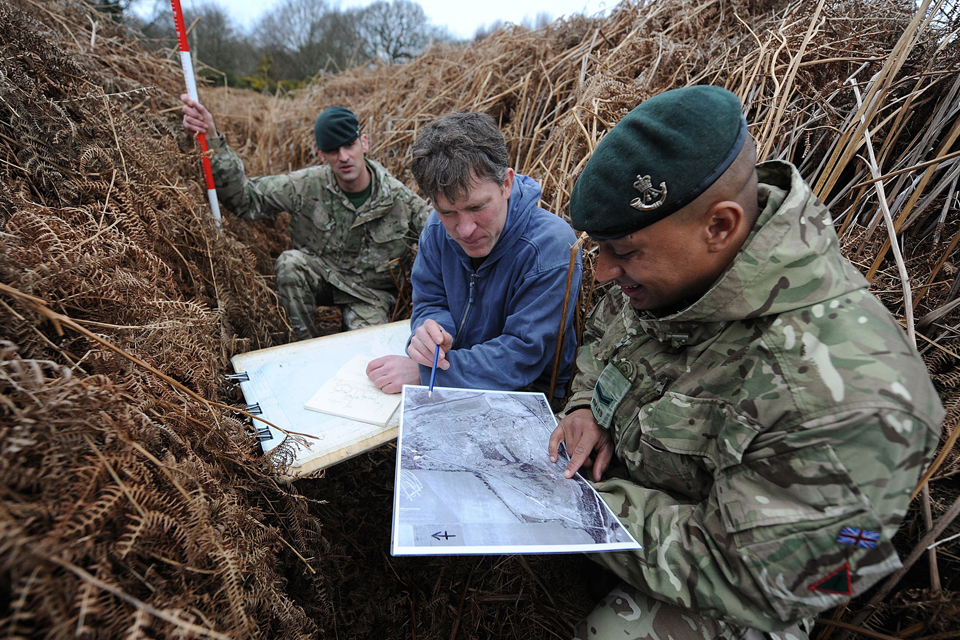 President of the Council for British Archaeology, Dan Snow, said:
Our aim is to record and preserve vulnerable sites, buildings and structures – camps, drill halls, factories and observation posts for example, before they and the stories they bear witness to are lost forever.

Our volunteers will be scouring the nation's towns, villages, countryside and beaches to track down local First World War places that are just not in the records.

They'll upload observations on what they find to a specially designed app and their finds will appear on an online map to open up the impact of the war on our landscape for everyone.
During the dig launch, MOD archaeologist Richard Osgood said:
It's a truly remarkable site, part of the history of Gosport and also that of the armed forces, so it's great that our servicemen and women have been able to explore the trenches today and experience it first-hand.
You can sign up on the Council for British Archaeology's Home Front Legacy website to access the online recording toolkit, guidance and resources, including an app for recording sites in the field and a map and photo gallery of newly-recorded sites.
The English Heritage website contains information about all kinds of buildings and sites associated with the First World War and describes other English Heritage projects taking place over the centenary period.
Published 7 March 2014