World news story
Holidaymakers warned to watch out for highway robbers in Spain
The British Embassy in Spain alerts holidaymakers to gangs of highway robbers targeting foreign-registered vehicles and hire cars.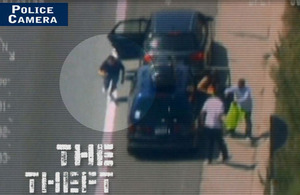 The British Embassy in Spain is warning holidaymakers to watch out for ruthless gangs of modern-day highway robbers who are preying on people driving foreign-registered vehicles and hire cars.
Police in the Catalonia region of Spain have dealt with 126 British victims of robbery on the AP7 motorway between the French border and the Valencia region over the past two years.
British Consulates across mainland Spain say they are receiving regular reports of roadside robbery occurring along the coast between Barcelona and Alicante, across Andalucia in the south, and in the Madrid region. Consular staff estimate that 1 in 20 of all emergency passports issued last year as a result of theft were following motorway robberies.
A new video produced by the Foreign Office - 'Don't let thieves drive you to distraction' - shows real-life footage of some of the most common tactics. Highway robbers flag their victim down by indicating there is a problem with their vehicle, then one gets out to distract the occupants' attention, whilst an unseen accomplice robs passports, money and other valuables before the gang makes a fast getaway.
In a second case, the robber tricks a victim into thinking they have a problem with their parked vehicle, whilst another opens the door and removes valuables. Other tricks include throwing something that creates a sudden noise, or puncturing a tyre at a roadside rest stop.
Will Middleton, consular regional director for Spain, warns:
Distraction is the most common technique used by highway robbers in Spain. They will try to worry you about the state of your vehicle, and then whilst they point out the supposed problem, an accomplice is robbing you.

So be wary of anyone attempting to stop you when you are driving, or trying to point out a problem or offering assistance. They may not be the good Samaritan they appear to be.

If someone points out a supposed problem whilst you are on the road, keep going until you reach a service area. If you have to stop, make sure one person stays in the vehicle. Keep valuables out of sight and out of reach. If you do notice a problem with your vehicle, call your emergency breakdown service for help.

We are working with the Spanish police to alert British visitors to how these gangs work, so that holidaymakers can avoid becoming victims. Police statistics1 indicate that these robberies are largely non-violent.

However falling victim to this kind of theft can be distressing and costly: a family of four who lose all their passports would unfortunately need to pay around four hundred pounds to get emergency passports to get home.
Top tips to avoid highway robbers ruining your holiday
On the road:
Be wary of people flagging you down
If you have a problem with your vehicle, call your emergency breakdown service
Keep valuables out of sight and out of reach
When you stop:
Park your vehicle in sight
Take your valuables with you
Watch out for tampering
Published 17 June 2014