News story
HMS Illustrious en route to the Philippines
HMS Illustrious has today departed Singapore and is on her way to the Philippines with over 500 tonnes of disaster relief aid on board.
During 48 hours at Sembawang naval shipyard in Singapore, the aid was loaded into the ship's hangar by the Royal Navy personnel and the other forces on board, including J Company of 42 Commando Royal Marines and the carrier air group.
During the time alongside in Singapore, additional medical teams embarked, along with personnel from 24 Commando Engineer Regiment. The amphibious helicopter carrier set sail at 1:30pm local time.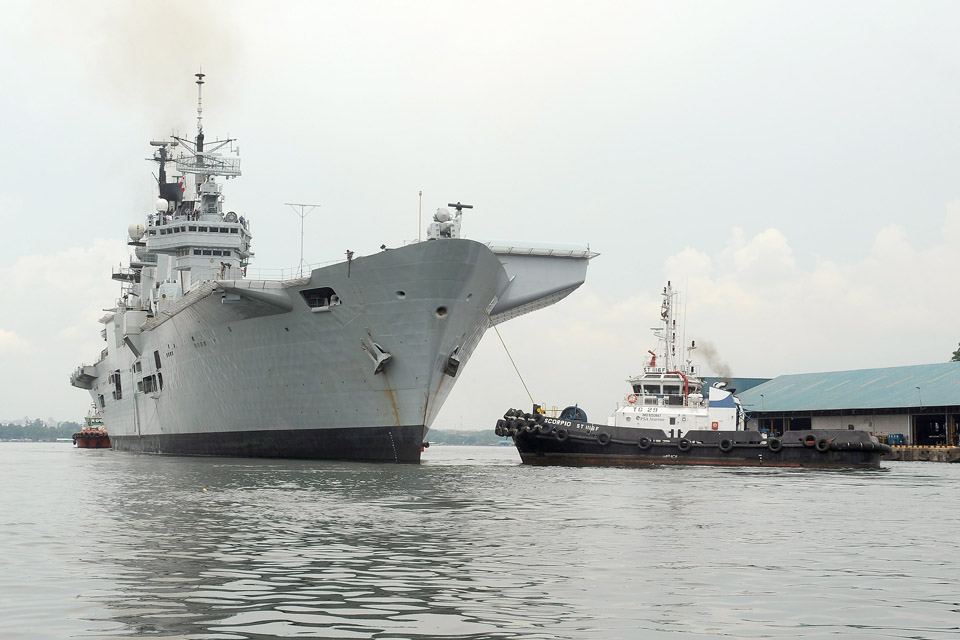 'Lusty', as the ship is affectionately known, will make best speed to the Philippines to join the international humanitarian effort following the devastation caused by Typhoon Haiyan. The Department for International Development (DFID) is leading the UK government's aid effort in the stricken islands
Commander Phil Hally, who was responsible for planning the complex task of getting the aid onto Lusty, said:
We have managed to fit in everything DFID asked us to carry. The young men and women on board have worked tremendously hard and we are very proud of what they have achieved in a very short time. This is something we will all remember.

We now have a very short period of passage to the Philippines before the really hard work begins.
HMS Illustrious is due to arrive in the Philippines around 25 November 2013 to relieve HMS Daring as part the UK's contribution to the aid effort.
The Royal Air Force is also involved in the relief effort and currently has a C-130 and a C-17 aircraft assisting the delivery of aid to the typhoon-hit islands.
Find out more about how the UK is helping the people of the Philippines that have been affected by Typhoon Haiyan.
Published 22 November 2013