News story
HMS Edinburgh makes last entry into Portsmouth
HMS Edinburgh, the Royal Navy's last remaining Type 42 destroyer, returned to her home port of Portsmouth for the final time today, 31 May.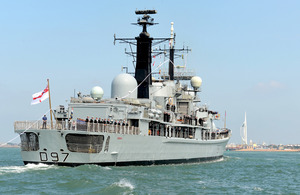 The 30-year-old warship has clocked up almost 800,000 miles, and she decommissions next week as the Type 42s make way for the next-generation Type 45s.
HMS Edinburgh returned to Portsmouth from a month-long farewell tour of the UK which included visits to her namesake city and Liverpool, where she was built. She also stopped off in London where she played her part in events to mark the 70th anniversary of the Battle of the Atlantic.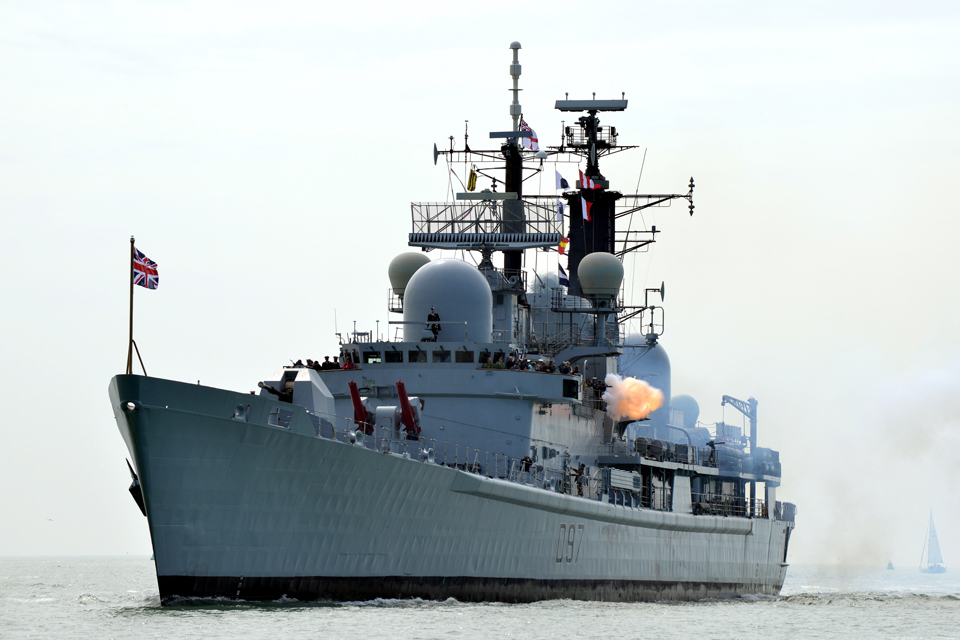 In keeping with Navy tradition the ship was flying a decommissioning pennant on her final return and was accompanied by HMS Defender, one of the Navy's successor Type 45s.
HMS Edinburgh fired a 21-gun salute as she approached the harbour and the saluting gun at Fort Blockhouse, Gosport, responded in a similar fashion.
End of an era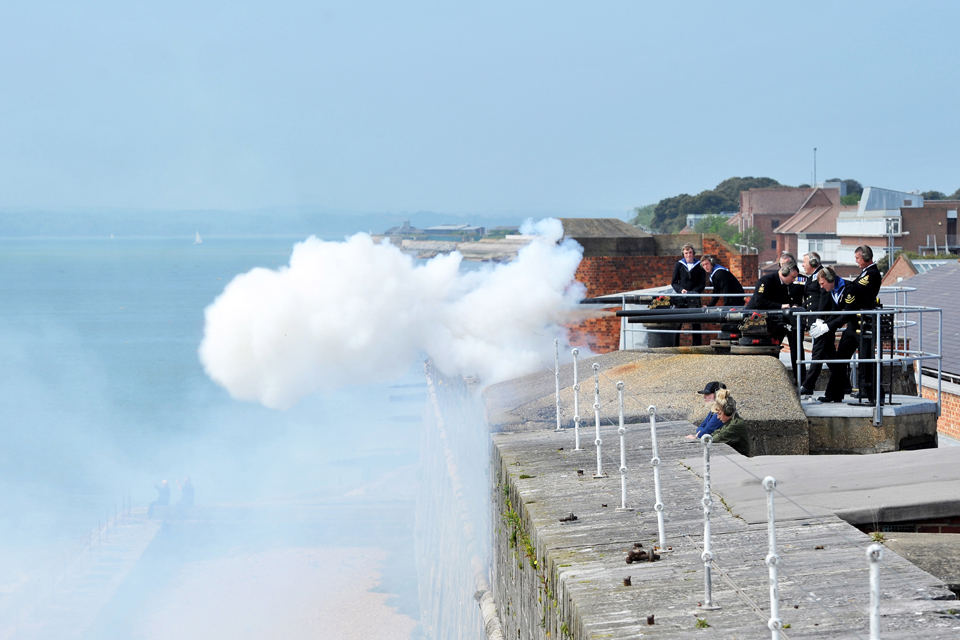 One of the 260-strong ship's company returning today was Leading Engineering Technician (Marine Engineering) 'Goldie' Gouldin, whose first ship was Edinburgh back in 2001:
Most people on board are proud to serve on a 42," he said. "Everyone wanted to be on the upper deck on the last day as we went past the Round Tower.
Fellow stoker Petty Officer 'Darbz' Allen, who has served in Her Majesty's Ships Birmingham, York, Exeter, Glasgow, and now Edinburgh, said:
I love these ships and I will miss them. They are brilliant ships with a great bunch of people.

They have stood the test of time. They have proved themselves in the Falklands, in the Gulf, all over the world.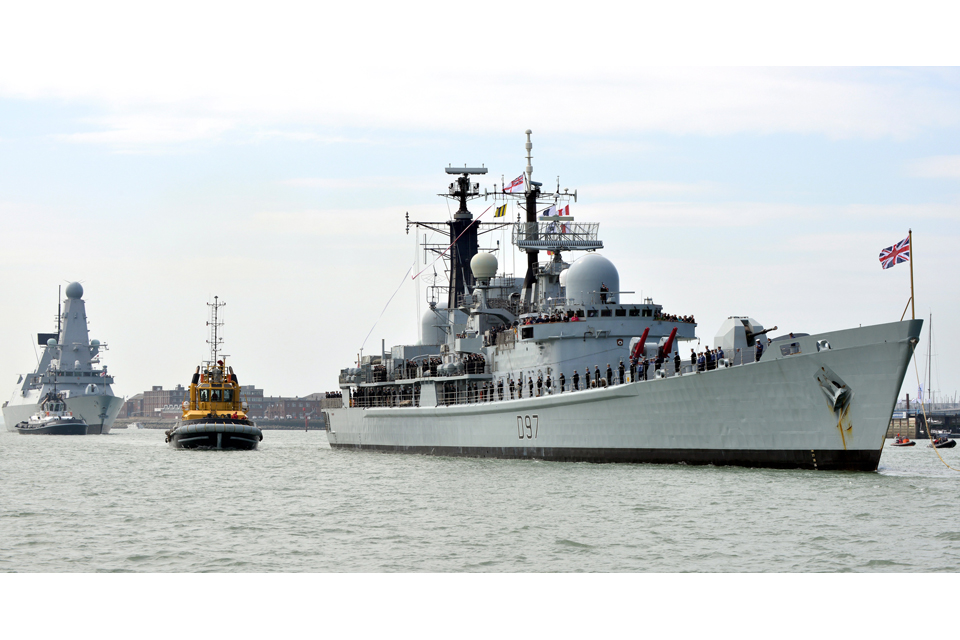 Among the public gathered to watch the historic final entry was former radar senior rating Steve James from Whiteley, near Fareham. He left the Navy nearly a decade ago having served on 5 Type 42s, including 2 drafts in Edinburgh. Mr James met his wife, Julie, serving in HMS Manchester, and the couple's son, Will, was christened aboard her; his name is inscribed on the ship's bell:
There was a good family feeling on board a Type 42," he said. "Everyone looked after each other. And, whichever ship you served in, you knew your way around and you always knew someone on board. I had good times on them.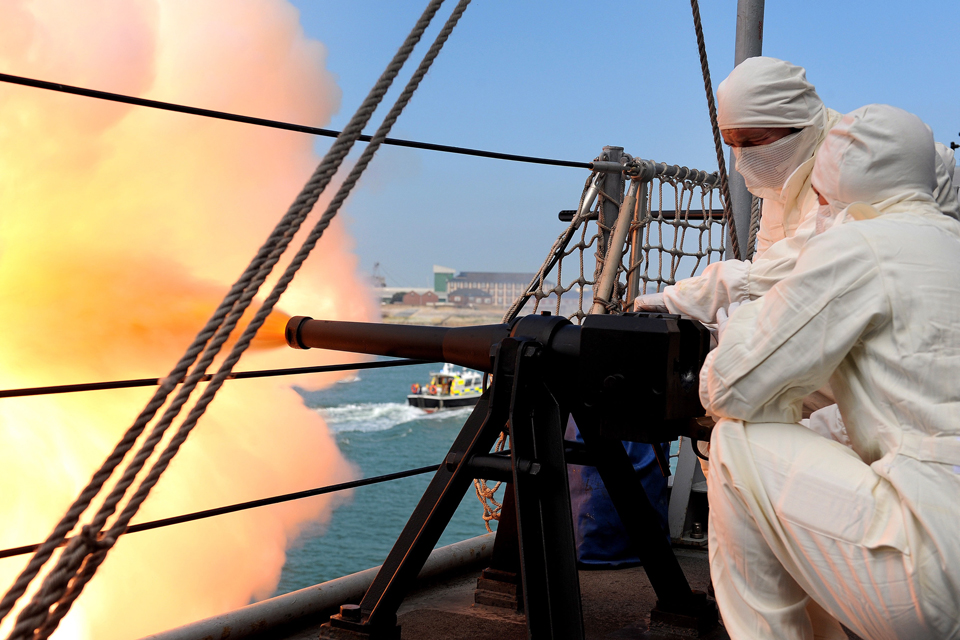 Open weekend
Today's ceremonial entry begins a busy – and emotional – final week in the active life of Edinburgh, which has sailed all over the world under the White Ensign.
The public have a final chance to step on board a Type 42 this weekend, 1 to 2 June, as Edinburgh opens her doors to visitors free of charge at Portsmouth Naval Base between 10am and 4pm.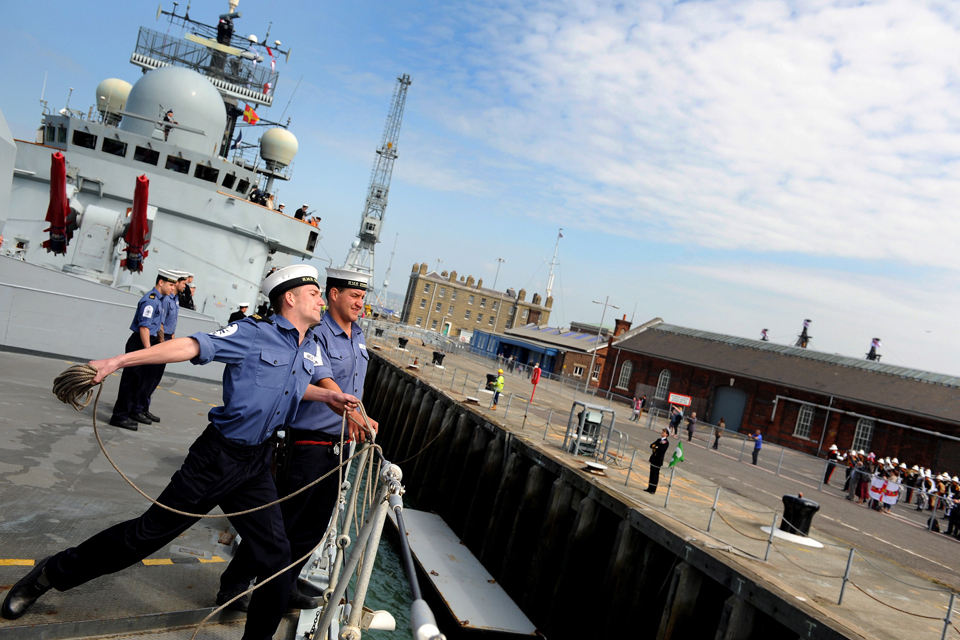 HMS Edinburgh's White Ensign will be lowered for the final time during a decommissioning ceremony at the naval base next Thursday, 6 June, attended not just by friends and family of the current ship's company, but also by former 'Edinburgers' and many from the strong former Type 42 community.
Published 31 May 2013