World news story
HMS Daring - British Graves found in Shanghai
A heart warming story of one families search for their ancestor experiences a positive development in Shanghai during HMS Daring visit.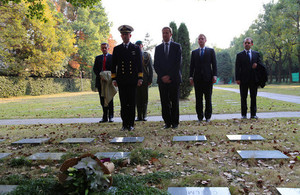 As the HMS Daring visit to Shanghai draws to a close, a heart warming story of one families search for their ancestor experiences a positive development.
Matthew Forbes, Deputy Consul General in Shanghai and Mark Logan, Head of Communications received an enquiry from colleagues in London towards the end of the summer, 2013.
The British Consulate in Shanghai became aware that the families of two members of the Royal Ulster Regiment, who were killed in the same week at the beginning of the war in Japanese aerial attacks on Shanghai, were searching for their graves.
This followed a news article in a local newspaper in Northern Ireland which reported the story and a further article on the BBC website.
The Consulate asked a Shanghai-based British historian – Mark Felton – if he would help to track down Patrick's and James' last resting places. Mark initially thought that it would be difficult to find the grave as so many were lost in Shanghai since the Second World War.
After some quite extensive searches of local records, Consulate staff then visited the Song Qing Ling cemetery. They found both graves marked with headstones within 10 metres of each other. They also managed to speak to a representative from the Chinese Cultural Relics Preservation Department who was an expert on this particular cemetery.
At 15:00 on Wednesday 11th December, Consul General Brian Davidson welcomed HMS Daring's Rear Admiral – Matthew Parr – to the Song Qing Ling cemetery.
The Rear Admiral, flagged by Captain Rupert Hollins, paid their respects by laying flowers at the gravestones of Patrick McGowan and James Mellon.
Speaking shortly after the ceremony Brian Davidson commented
With the visit of HMS Daring we are moved to be able to come here today to pay our respects to Patrick and James.
HMS Daring leaves Shanghai on Friday onwards to Vietnam. Over the last few days the Ship has carried out a range of activities including a business cocktail reception, HMS Peterel Commemoration Service, a performance by RM Band at the Oriental Pearl Tower, as well as a multilateral counter piracy conference.
Published 12 December 2013