HMA William Patey interviewed on Radio 4
HMA William Patey interviewed on Radio 4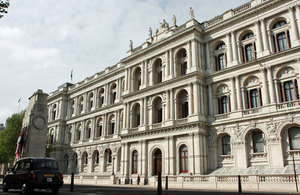 Programme: Radio 4
Date and time: Saturday 18 September 2010, 07:11
Subject and interview: Voting in Afghanistan - Sir William Patey
James Naughtie: I know that you've got with you there outside that polling station in Kabul the British Ambassador, Sir William Patey, who's obviously observing the process and I think if you've managed to get your headphones off and give them to the Ambassador we can talk to him now. Ambassador good morning.
Sir William Patey, (British Ambassador to Afghanistan): Good morning.
**JN: **What are your impressions of the process as it begins on polling day?
WP: Well we're quite pleased with the process. I think we've seen an Independent Electoral Commission which has learnt many of the lessons from previous elections and a number of problems that are, arose with previous elections have, have been fixed. I mean one of the main, one of the main positives is that the announcement of the polling stations took place one month before polling to give time to get everything organised, in previous elections that happened two days before polling. So the, the process of getting the ballot papers, getting the electoral, electoral stations up and running has been much smoother, also giving time for the candidates to have their representatives here.
So the process has been, has been pretty good. It's obviously a challenging context, very few countries would try and hold an election in the face of a, of a, of an insurgency, in face of Taliban trying to disrupt it but I think so far we're pretty pleased.
JN: Well Richard Holbrooke, the American Envoy, says of the elections they're going to be flawed and he said we've experience in our country, the United States, with flawed elections and not in the middle of a war so we're not looking for perfection. So I take it there has to be a degree of realism here from the British Government as well?
WP: Yes that's right we are, we are realistic. I think we're looking for the best elections you can have in the circumstances. I think what is good about it is that the, the Afghans have learnt the lessons. So, for instance, where there have been accusations of electoral officials colluding with candidates those electoral officials have been removed. And indeed in a, in a rather surprising move a few days before the election two thirds of the election officials were changed, they were moved to a different district. So what can be done to reduce fraud or any other malpractices the, the Independent Election Commission have been pretty good at taking those actions.
JN: From the point of view of making the case for an Afghanistan that has been improved as a result of the actions that have been taking place over several years how important is it, just to put it crudely for public opinion here at home, that these elections can be defended as s genuine democratic exercise?
WP: Well I think we certainly, they certainly need to be credible and inclusive. I think we want to, they won't be perfect but credible, inclusive would be a fair test. So we want to make sure that as many Afghans as possible have had the opportunity to choose their new parliament and I think with over ninety per cent of polling stations opening on time that will be, that will be achieved.
Obviously it's a bit easier in Kabul, we're seeing long queues in Kabul and everyone able to exercise their vote. In some areas where the Taliban have managed to intimidate and to close some stations then, obviously, they'll be slightly less inclusive but the stations that have been closed or haven't opened are the ones where, experience tells us, the most fraud takes place. So, in a sense, I was speaking to the head of the Afghan electoral observation mission here who said this is a positive movement towards to enfranchisement not disenfranchisement because the people who vote, their votes will be more genuine and if you close down the stations where the fraud has taken place then the integrity of the election is preserved.
So I think it is important that it's credible and inclusive and we'll, we'll have to wait and see but the early signs are good.
JN: Sir William Patey, British Ambassador to Afghanistan, thanks very much for joining us.
Search the news archive
Published 20 September 2010