World news story
Historic First World War documentary live streamed to students across Newfoundland and Labrador
Special screening of the 1916 film The Battle of the Somme featured accompaniment from the Memorial University Chamber Orchestra.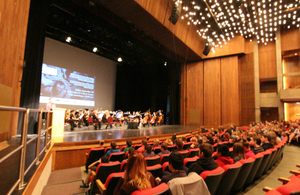 Today (30 September 2016) students across Newfoundland and Labrador had the unique opportunity to experience the 1916 film The Battle of the Somme along with a live performance of Laura Rossi's 2006 accompanying score.
Prior to being screened to a sold out audience at the St. John's Arts and Culture Centre, a full dress rehearsal was opened to 400 local middle and high school students. This special preview was also live streamed to thousands of students across the province thanks to a partnership with Memorial University and the Government of Newfoundland and Labrador.
Commemoration of The Battle of the Somme is of particular importance to Newfoundland and Labrador. As a British dominion in 1916, 708 soliders from the Newfoundland Regiment went over the top on 1 July 1916 at Beaumont-Hamel. Only about 110 would survived unscathed, of whom only 68 were available for roll call the following day. The unit as a whole suffered a casualty rate of approximately 80%.
British High Commissioner to Canada Howard Drake told the students prior to the screening:
"It's very important future generations, long after the battle was fought and the war was won, understand what it was about and the values that were at stake."
"Here in Newfoundland the events 100 years ago at Beaumont-Hamel are such a big part of your identity and it is a great pleasure that through the help of our partners here in Newfoundland and Labrador and in the UK we have been able to bring this special film screening to students across the province."
Later in the evening, nearly one thousand people attended the free public event, hosted by the British High Commission, in partnership with the Government of Newfoundland and Labrador's Honour 100 initiative and Memorial University. The moving score, commissioned in 2006 by the Imperial War Museum, was performed live by the Memorial University Chamber Orchestra under the direction of Vernon Regehr.
The Battle of the Somme film is one of the jewels in the Imperial War Museum's collection. It is a compelling documentary record of one of the key battles of the First World War and the first feature-length documentary film record of combat. Seen by over 20 million people after its release in August 1916 – when the battle was still raging - The Battle of the Somme was recognized at the time as a phenomenon that allowed the civilian home-front audience to share the experiences of the front-line soldier and the brutal reality of the First World War. It is the source of many iconic images from the War, which remain in almost daily use 100 years later.
This St. John's screening is one of 100 performances that contribute to the Somme100 FILM Project, an international initiative to mark the 100th anniversary of the WWI Battle of the Somme during 2016. More information can be found at www.somme100film.com
Further information
Media enquiries
Trevor Kerr
80 Elgin Street
Ottawa Ontario K1P 5K7
Canada
Published 1 October 2016