Press release
Historic first as housing associations tenants buy homes
For the first time, housing association tenants have become homeowners under the new Voluntary Right to Buy scheme.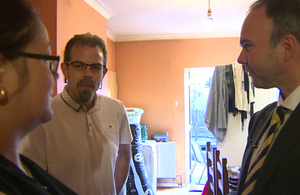 Sasha Dudley and partner Peter Taylor in Croydon, are some of the first tenants to benefit from one of the 5 associations piloting the new rights ahead of the scheme going nationwide.
The voluntary agreement between government and housing associations will give householders the chance to purchase their home with Right to Buy discounts. The pilot is being used to develop the national scheme.
Under the deal reached with the sector, when the main scheme is rolled out every home sold will be replaced nationally with an additional new property increasing the overall supply of housing.
The government has already set out the most ambitious vision for housing in a generation and doubled the housing budget.
Since the launch of the pilots nearly 800 applications have been submitted by tenants who want to take their first steps towards owning their own home. The first purchases are now beginning to be made.
Housing and Planning Minister, Gavin Barwell, said:
Anyone who works hard and aspires to own their home should have that opportunity to do so.

Right to Buy will help lots of people, like Sasha and Peter, go from being a tenant to homeowner.
The minister visited the family in Croydon to hear first-hand their experience of becoming a homeowner. Sasha who works as a business support officer at Croydon Council has lived in her home for 19 years with partner Peter and their children Jordan and Caleb.
New homeowner Sasha Dudley said:
We are very excited to be homeowners. We've lived here for almost 20 years, close to family and friends - but now overnight home suddenly feels more important to us.
And partner Peter Taylor added:
It's always felt like a home but knowing that we now own the place gives that sense of security and ownership that wasn't there before.
Housing associations have an excellent record of building new homes and have delivered the majority of the 293,000 affordable homes built since 2010.
More than 309,000 households have now been helped into home ownership through government backed schemes since 2010. That is 141 new homeowners a day and around 4,350 a month. This includes many through the Right to Buy.
On top of this Britain is building again with more than 900,000 additional homes delivered.
The pilot associations and areas covered are:
L&Q – Croydon LBC, Enfield LBC, Greenwich LBC, Haringey LBC, Lambeth LBC, Lewisham LBC, Newham LBC, Southwark LBC
Riverside – Liverpool CC, Halton BC, Knowsley MBC, Sefton MBC, St Helens MBC, Wirral MBC
Saffron Housing – South Norfolk DC
Sovereign – Cherwell DC, West Oxfordshire DC, Vale of White Horse DC, South Oxfordshire DC
Thames Valley Housing Association – Guildford BC, Hart DC, Runnymede BC, Rushmoor BC, Woking BC
Office address and general enquiries
2 Marsham Street
London
SW1P 4DF
Contact form http://forms.communiti...
General enquiries: please use this number if you are a member of the public 030 3444 0000
Published 10 September 2016