News story
Historic building uses new technology to combat metal thieves
New metal marking technique allows the police to trace stolen metal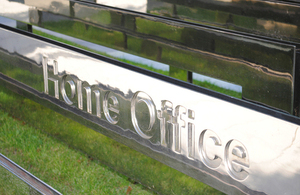 New technology to deter metal thieves got the Home Office seal of approval today.
Lord Taylor of Holbeach visited the 150 year-old Northampton Guildhall today to see first-hand a new metal marking technique which allows the police to trace stolen metal.
Metal theft
Engineers from the Institute of Materials, Minerals and Mining have engraved the Guildhall's lead roof tiles with details of their owner and location so that if stolen, they can be checked by the police against a national database.
The scheme is designed to help clamp down on the estimated 1,000 metal thefts per week in the UK which cost the taxpayer around £220 million every year.
Theft
Minister for Criminal Information Lord Taylor of Holbeach said:
This innovative project will help ensure historic buildings like Northampton Guildhall are not targeted by metal thieves.
This crime wreaks havoc on communities and new projects like this will help us win the war against metal thieves and preserve the UK's best-loved landmarks.
This government has introduced strict new rules to clamp down on this type of theft including banning dealers from trading in cash, increasing financial penalties and giving police new powers of entry to metal yards.
Lord Taylor's visit comes just two weeks after the Scrap Metal Dealers Bill received Royal Assent. The Act, which comes into effect later on this year, will allow local authorities to suspend or revoke metal trader licenses where they suspect illegal activity.
Published 13 March 2013