His Royal Highness The Duke of Gloucester visits Thailand for education, remembrance and charity
His Royal Highness The Duke of Gloucester arrives in Bangkok today for an official visit that signifies the strength of the UK-Thailand partnership.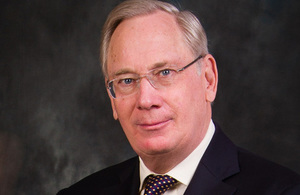 In light of the visit, the British Ambassador to Thailand, Mr Brian Davidson, said:
I am delighted to welcome His Royal Highness to the Kingdom of Thailand, and I very much look forward to showing him some of the great successes of UK business in the Kingdom. The Duke will also attend a memorial service to mark the 75th anniversary of the completion of the Burma-Thailand railway. His Royal Highness' visit demonstrates the importance of the UK/Thailand relationship, and our commitment to further strengthen the ties between our countries.
On his first day in Bangkok, The Duke will tour the Jim Thompson House - the famous Bangkok residence and art collection of the 'Thai Silk King'.
In Chonburi, His Royal Highness will have the opportunity to tour the Triumph Motorcycles Factory and Senior Aerospace Factory. Both companies are British owned and employ hundreds of staff in Thailand.
The Duke will visit the Habitat for Humanity (HFHT) centre in Kanchanaburi. HFHT aims to improve the quality of life for low-income Thai people by building homes and transforming communities. His Royal Highness is a Patron of Habitat for Humanity in the UK.
To mark the 75th Anniversary of the completion of the Thai-Burma railway, The Duke will attend a remembrance service for the Commonwealth servicemen and women who gave their lives in the construction of the railway. He will also see the well-known Bridge over the River Kwai and tour its museum.
In Chiang Mai, His Royal Highness will visit the Royal Project Foundation Centre where he will learn more about the sustainable projects founded by His Majesty The Late King Bhumibol Adulyadej. The Royal Project has always had close connections with the UK, in particular Kew Gardens, and provides excellent examples of sustainable development.
The Duke will also visit the Children's Advocacy Centre Thailand: a notable Thai government initiative that joins international NGOs and Thailand's police units to combat child abuse, exploitation of children and human trafficking; and Care for Children in Chiang Mai. Care for Children aims to help create a positive alternative to institutional care through local family-based care for disadvantaged children.
On his final night in Thailand, The Duke will be the guest of honour at a charity dinner hosted at the British Ambassador's Residence. The menu will be curated by Michelin-starred chef Ken Hom, who will also be in attendance. This event is held in partnership with the Siam Piwat Group. All proceeds from the dinner will be presented to Habitat for Humanity in Thailand.
Further information
Published 15 October 2018