Press release
High streets to battle it out to be named top of the shops
Towns and villages around Britain are set to battle it out after making it onto the shortlist for the Great British High Street Awards.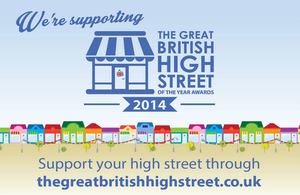 The competition to find Britain's best high streets is highlighting new and innovative ways to boost high streets and ideas that will be shared with others.
It is shining a light on hard working traders and communities around the country and showing what can be done to help shopping streets evolve to be places where people want to shop, socialise and work.
The high street has been the cornerstone of the community for decades and today we are starting to see them re-emerge with a renewed sense of self confidence.
The government is committed to high streets as part of its long-term economic plan and is supporting local shops and businesses with a billion pound package of investment that includes targeted business rate discounts, sensible planning changes and action that reins in over-zealous parking practices.
High Streets Minister Penny Mordaunt said:
There is a real sense of momentum behind our high streets and I'm determined that the hard work of people who have strived to make their high streets great places to work, shop and live is not only recognised but shared with others so they too can learn valuable tips for success.

We have seen a lot of enthusiasm for this competition and I've heard first hand on my tour on high streets around the country how proud people are of their streets and the value they place on them as an essential part of their community.
The contest is being run by the Future High Streets Forum and received more than 135 entries from across the UK. More than a third of town teams – local groups set up to support their high street – entered their street.
There are 7 categories – coastal, market town, city, village, local parade, town centre and London.
The entries were whittled down to a shortlist of 21 and will now be visited by a member of the judging panel which consists of key players from the Forum. A winner will then be selected for each category and announced in a month or so.
People can show their support for their local high street on twitter using #GBHighSt or by visiting thegreatbritishhighstreet.co.uk
The winners will win a share of £50,000 prize money and receive dedicated support and mentoring from industry experts. This could range from one to one coaching, to advice on creating business plans, to workshops on digital marketing.
Shortlisted high streets
City category
Norwich
The Norwich Lanes are a series of mainly medieval streets, alleyways and open spaces, playing host to over 300 independent and creative boutiques, cafes and bars. The area is promoted by the Norwich Lanes Association, a team of local business people organise innovative events and marketing campaigns, working with partners like Norwich BID and VisitNorwich.
Recent achievements include launching Droplet, a mobile payment service allowing people to buy anything using their smartphone - this has boosted small traders, and the Lanes Summer Fayre which attracted 15000 visitors to the area. These and other initiatives have boosted footfall and reduced vacancies.
Park Street, Bristol
Park Street is one of the most famous streets in Bristol. Throughout its history it has been a destination point for locals and visitors alike, home to some of Bristol's most diverse shopping and entertainment stores whilst framed by civil, cultural and architectural landmarks. Park Street is transforming into a dynamic, vibrant and beautiful leisure and shopping destination. The changes are happening as a direct result of the work of the local traders.
They have established the Park Street Traders and Business Forum with support from Destination Bristol. The Forum has made good use of the physical geography to create unique experiences, from the unexpected use of Park Street's infamously steep hill as a waterslide, a park and a race track. Park Street was turned into a global talking point overnight, and the traders feel empowered to drive the change they want to see. Their actions are creating a welcoming business environment, with the vacancy rate reduced by 4% in 6 months.
Glasgow
The Style Mile is Glasgow's premier retail area, with a vibrant mix of major and independent retailers, and a strong and integrated evening economy.
The Style Mile Partnership and local authority have worked in partnership to pool resources and utilise expertise in the various industries and professions within the city centre. A partnership vision and plan was developed that consolidates all city centre activity, sets out a 10-year plan of action, and promotes the Style Mile area as an iconic retail, leisure and business destination.
Footfall is regularly outperforming the UK and Scotland average both in the day and evening economy. The Partnership won the prestigious 'Flourish' award for excellence in building a prosperous city.
Coastal category
Blyth, Northumberland
They have taken a unique approach to attracting footfall by building a community rowing boat, working with British Rowing and the Royal Northumberland Yacht Club to create a community rowing club and build a skiff in the town centre's retail shopping centre. The project has been a great success, leading to the development of a constituted rowing club, interest in empty stores, an annual event on the National Maritime calendar, the development of a regional maritime watersports facility and the bid to host the 2016 world skiff championships in the town.
Folkestone
Folkestone is adapting to meet the changing demands of consumers for convenience shopping. With graffiti, rubbish, loose paving slabs or stones, damaged bollards, poor maintenance of damaged railings/flower beds, and businesses not looking after their shop fronts, gardens, or the rear of their premises and so on, the town was beginning to look very run down. It was urgent that the Town Team saw to it that something was done about this as it was affecting the 'visitor experience'.
In May 2013, the Folkestone Town Team introduced the Town Centre Sprucer, working fulltime to smarten up the retail and business sector of the town - cleaning signage, painting railings, creating gardens etc. This has been judged a fantastic example of how a simple intervention can have a huge impact on the look and feel of a local area.
Colwyn Bay
Colwyn Bay is the thriving coastal town in north Wales. An extensive regeneration programme managed by Conwy County Borough Council's Bay Life and its partners, is actively driving footfall to and local pride in the high street. The programme is supported by several business groups including the Chamber of Trade; town team and the business network.
The high street has seen the arrival of both multi-national brands and independent shops. Footfall in the town has risen by 30% and since 2012, 52 new shops have opened and 22 businesses have expanded or refurbished.
Local parade category
Brighton
The London Road area of Brighton, once known for its empty shops, notoriously bad reputation, high levels of crime and an association with drink and drug misuse is now a thriving and well visited area of the town. The area has been the focus of a number of major projects and strategies, including the Open Market site, replacing the former market space with a new covered market. The former Co-op is being redeveloped into student accommodation and the historic park has been restored, reclaiming an area used by street drinkers.
The area is now better known for its fresh food and strong community spirit. Vacancy rates have gone down from 17% in 2012 to 8% in 2014. An area that was associated with street drinking and drugs abuse has seen an overall reduction in crime of 9% and a fall of anti-social behaviour of 18% compared to the same period as the year before.
Barnoldswick, Lancashire
Barnoldswick is a traditional small town shopping area in Pendle, Lancashire, with friendly family run independent businesses. The centre had retained independent butchers and bakers and other convenience retailers, but had few destination shops and the loss of all of the centres pubs (7 out of 7) threatened footfall and created a very negative impression of the area. Barnoldswick. An effective partnership was forged, of local traders, local community, elected representatives and town and borough councils. They worked together to stop the downward spiral and put Barnoldswick centre on an upward slope.
Initiatives included volunteer run events, relocated to Barnoldswick centre from local parks, including 'Bands on the Square', a free 3 day live music festival of local talent. Private investors have taken over 3 of the failed pubs, creating high quality dining and entertainment facilities. Others have been redeveloped for retail and service uses, and for housing. The area's economy is now benefiting from the additional footfall, and vacancy rates have been substantially reduced.
Bishopthorpe Road, York
Bishopthorpe Road in York is an example of a thriving local shopping area, where 90% of the businesses are independent. Bishopthorpe Road Traders Association was formed in 2010, by a group of 30 businesses with the objective of protecting the unique trading status of the area from the threat of the recession, and counteracting the threat from out of town shopping centres.
The traders association has worked together to raise funds for 'winter lights', and has organised events including 'J'Adore Bishy Rue', linked to the Tour de France. They have also worked with the city council with environmental and economic issues. Their success is evidenced by the fact that there are no empty premises on Bishopthorpe Road, and the trade association is currently shortlisted for 2 York Community Pride Awards, organised by City of York Council and York Press newspaper.
Market town category
Mansfield, Nottinghamshire
Mansfield is a historical market town with modern influences in the heart of Robin Hood land, which defines its identity. However it is also a traditional miner's town and as such some negativity and perception of deprivation from the closure of the mines still exists. The Mansfield Town Team is made up of key stakeholders, businesses and public, all working on initiatives that will benefit the town. Chaired by the Mansfield BID, the team works to raise the profile of the town and encourage regeneration.
The team's focus is to change the perception of Mansfield, particularly that of the evening economy, and to showcase the town as a modern forward thinking visitors destination. To this end, the team used crowd funding platform to raise the capital for free Wi-Fi in the town centre, and successfully applied for Purple Flag status. These initiatives have helped ensure that footfall continues to rise, that crime rates have fallen by 66% since 2011, and that vacancy rates have reduced. There Wi-fi has been widely recognised as a model of good practice.
Belper, Derbyshire
Belper is a traditional Derbyshire market town in the Derwent Valley Mills World Heritage Site offering a range of national stores and independent shops, in a historical setting. The town hosts a number of independent, specialist and niche stores and includes a high number of small shops. Belper is working together with the World Heritage Site to maximise its location to support its independent businesses, attract town centre shoppers and celebrate its friendly high street. Initiatives include the Belper Ambassadors scheme, training local shop staff to improve their local knowledge and provide a visible welcome for visitors, encouraging people to extend their length of stay and spend more with traders. They have also delivered a youth market, pop up shop and community space. Success is demonstrated by the widening programme of events, and declining vacancy rate.
Bishops Waltham, Hampshire
Bishops Waltham is a small town in Hampshire. The imminent arrival of a superstore and a shift in shopping habits threatened the viability of the high street. Bishop's Waltham Town Team was formed to tackle the issues. The team has taken forward a range of initiatives targeting different sectors of the community - from "Pumpkins on Parade" aimed at young schoolchildren - to "Come Dine With Us", a week long celebration of food. They have also introduced a QR coded town trail which informs visitors of the history of the sites around the high street. A survey conducted among traders in August 2014 showed that business confidence is at an all time high with 78% of traders reporting an increase in turnover and 89% believing the economic prosperity of the high street has improved.
Village category
Meltham, West Yorkshire
Meltham is a small town and civil parish within the Metropolitan Borough of Kirklees, in West Yorkshire. Meltham benefits from a fairly steady use of the village centre. It is home to a host of independent businesses - making the village a one-stop shop.
Meltham Carlile Community Interest Group has used Community Rights to purchase and bring back to life an old Victorian building at the centre of the village. Their initiative has not only saved the building, but also provided a hub for the community, hosting a community Post Office, cafe, library, office space and community facilities. It has helped regenerate an area of the village that has been under-utilised, and encouraged the use of a free car park which would prevent people parking in the street unnecessarily.
Broxburn and Uphall
Broxburn and Uphall are 2 villages in West Lothian. Vions/Halls were the main employers in the local area, employing 1700 people from the local community. Businesses were already experiencing difficulties due to the downturn in the economic market and when Vion/Halls closed, it was feared that this additional blow to the community would be the demise of the high street.
The council worked with a range of partners to create a Business Gateway Shop in the centre of Broxburn, bringing together services for business, employment, and financial advice, to deliver an integrated package of support to the local community. The project provides an outstanding example of flexibility and collaboration. In addition to the ongoing review of services, bringing in new partners as new needs are identified, the shop is providing meeting services at the drop in shop, providing a space for other town centre groups to come together.
Earl Shilton, Leicestershire
Earl Shilton is a village in Leicestershire. Its commercial centre is a traditional linear high street, which has faced a difficult period following the decline of its traditional industrial base which was focused on a number of shoe, hosiery and knitwear factories. The Town Team Working Group was established to reinvigorate a sense of place and sense of pride.
The team has worked with a range of partners to take forward public realm improvements and a programme of events.
They have also established an area action plan that focuses on the longer term issues, and ensures that new development will support the regeneration of Earl Shilton. Investment has already been channelled into an initial public realm scheme centred on the Town's War Memorial. This area has become a hive of activity for events such as farmers markets and charity sales. Investment is also going into the town's parks and green spaces which has made a huge difference to their offer for a mix of age groups and their ability to host a regular programme of events.
Town centre category
Worcester
February 2014 saw devastating floods hit the UK and Worcester was severely affected with the river reaching record levels. Regional and national media were conveying the false message that the town centre was cut off and therefore closed. The previous floods of 2007 had resulted in a very slow return to normal trading figures for many high street businesses and they were keen to avoid a repeat situation.
Partners worked on an extensive media campaign to convey the fact that the high street was open for business. Businesses on the high street got involved by being photographed with the now famous open4business chalkboard and forwarded key general messages as well as their own images to get the message across. The local authority laid on coaches to ensure the high street remained accessible despite rising flood waters. An 18.7% drop in footfall on the high street (year on year) during the week of the floods was turned into just a 0.2% drop the week after the peak of the flood and then an 8.4% increase the following week.
Wantage, Oxfordshire
Wantage is a local town centre in Oxfordshire. In 2012, there were 26 vacant shops in Wantage and 15 empty units on Mill Street. Mill St was particularly blighted as there were no shops trading - it was badly affected by a new supermarket development. The town team was formed to encourage new shops to start up in Wantage, with a special focus on Mill St. Initiatives included a Buybox delivery locker allowing click and collect, pop up shop (with over 60 businesses getting to try out retailing), and 5 of these have gone onto take permanent shops in the town:
a community shop - the MIX - to encourage people into the town and provide a focus for community groups
Wantage Presents… (live public performances in the Market Place every Saturday morning)
community events in town
the Wantage and Grove loyalty card scheme which acted as the marketing platform for all town businesses
arts displays in shops to drive footfall into businesses
The number of vacant shops has been reduced from 26 units to only 4 units. Footfall has been increased by 30%.
Falkirk
In the late 1980's Falkirk town centre transformed from being a highly underperforming centre through major regeneration into one of Scotland's leading town centres featuring a fully pedestrianised high street, 2 shopping centres and a mix of national and quality independent businesses. More recently Falkirk has suffered like most similar high streets, and it has been acknowledged that the high street once again needs rejuvenating. The local Business Improvement District, Falkirk Delivers, with its partners is driving a renaissance.
Local projects included a Shop Local campaign, a series of exhibitions and community uses of vacant units, a 'Free After Three' parking regime in all council car parks and a diverse range of footfall building events and festivals. The BID has embraced multi-channel technology, with a 'e' toolkit to support local businesses, and a smartphone app to highlight current offers.
London category
London – Wood Street
The Wood Street programme, funded by the Outer London Fund and London Borough of Waltham Forest, took an holistic approach to the whole area; improving the physical environment through shop front improvements innovative light-touch signage improvements (Shopportunity), and art installations and activities; improving social cohesion and engagement through working with local schools, events and activities, refurbishment of the local play area and school frontages at Woodside school; supporting businesses through the establishment of a business forum, revitalising Wood Street indoor market, creating a new website for the area, shop front improvements and visual merchandising and social media training.
London – Wembley Triangle
Parallel and complimentary programmes facilitated a dual approach to Wembley's failing high streets. Both challenged the perceptions of traders, residents and visitors to Wembley, revealing hidden assets, increasing standards and nurturing new uses.
One, the Coming Soon Club, accessed and renovated vacant shops for meanwhile uses, then supported local people to trial new businesses, community activities and ideas from these spaces. The other, School for Shops appealed to the drive, passion and ambition of existing traders to build confidence and resilience through increased skills, and access to expert support, promotion and resources.
London - Kingston
Market Place
Kingstonfirst needed to unlock the potential of Kingston's Ancient Market and the outlets in its town centre. To do this the market was redesigned and the variety of its produce was increased. A "pop up" element was added to ensure its offering remains fresh and to provide entrepreneurs with somewhere to test innovative retail ideas. The landscape was redeveloped to create a piazza style space that is now a vibrant hub for the community. This revitalisation along with the new brand, website, social media and magazine has resulted in a surge in footfall to both the market and retail outlets.
Ancient Market Place
Reinforcing the Cultural Heart: The Ancient Market Place, situated between 3 areas: Kingston's day-time shopping streets, the night-time river-side restaurant areas, and the cultural hub of the new Rose Theatre, is unfortunately cut off from all 3.The approach to the Ancient Market Place is unclear and disjointed - cut off on its north and south perimeters by 2 busy roads and lacking in identifiable landmark. On arrival at the Ancient Market Place, one is impressed by the architectural quality of the Ancient Market House, which is however shrouded by the large amount of waste surrounding it, behind the ring of market stalls. The existing market stalls only manages to sustain engaging urban activity during the trading hours of the market. It has proved difficult to attract visitors to a space that is not well-defined and has little to offer in the terms of for evening activity. However, being centrally located in Kingston, and having a strong character grown out of the market stalls, the place has potential to become a key attraction, reinstating its role as the heart of Kingston.
Office address and general enquiries
2 Marsham Street
London
SW1P 4DF
Contact form http://forms.communiti...
General enquiries: please use this number if you are a member of the public 030 3444 0000
Published 3 October 2014