High level UK-Ghana partnership to boost trade and jobs
During a visit to Ghana, Minister for Africa Mark Simmonds agreed a high level partnership to boost trade, jobs and mutual prosperity.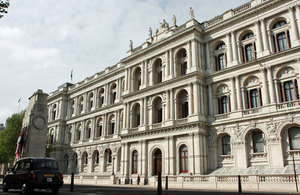 UK Minister for Africa Mark Simmonds has completed a successful two-day visit to Ghana, with discussions focused on building mutual prosperity and boosting trade, investment, growth and jobs, through a new UK-Ghana high level partnership.
Speaking at the end of his visit, Mr Simmonds said:
I am delighted to have been able to visit Ghana for the third time since becoming Minister for Africa. Ghana is an ideal partner for the UK, not just because of the strength of our existing relationship and the ties between our people, but because of Ghana's impressive economic success and stability.
I was pleased to be able to discuss deepening the UK-Ghana economic relationship with His Excellency the President, the Vice President and senior Ministerial team, and to follow-up on President Mahama's successful visit to the UK a few weeks ago. I was glad to have announced £10m of funding from DFID, which, working with public sector finance will help to drive agricultural SMEs in northern Ghana.
I am confident that the UK and Ghana will be able to work together even more closely in the future, increasing the value of our bilateral trade and generating economic prosperity and employment both here and in the UK. I am delighted to have agreed a new High Level Partnership which will be in the national economic interest for both the UK and Ghana.
During his visit to Ghana, Mr Simmonds met with President Mahama, Vice President Amissah Arthur, the Minister for Foreign Affairs and Regional Integration, and the Minister for Trade and Industry. The Minister visited the UK agri-business Blue Skies, and while there set out how £10 million of DFID funding for agricultural investment in northern Ghana will be channelled through the Agricultural Development Company.
Part of a wider partnership launched by the UK's Development Secretary Justine Greening in June this year, the funding will help invest in small and medium-sized agricultural businesses and irrigation schemes in the North of Ghana to boost production and economic growth in some of the country's poorest areas. The Minister also visited Jamestown to discuss Private Sector-funded plans for infrastructure and urban regeneration, and spoke at the Ghana launch of the all new Range Rover.
The Minister also met senior leaders of UK businesses who are active in Ghana, commending their further investment plans in the country, as well as holding talks with heads of Ghanaian Agencies and Departments involved in key economic sectors including promoting foreign investment in Ghana.
Further information
Follow the Foreign Office on twitter @foreignoffice
Follow the Foreign Office on facebook and Google+
Subscribe to the announcements feed or email alerts to get our latest news and announcements.
Published 4 July 2013